Located on the waterfront right next to the Golden Gate bridge is one of San Francisco's best and most loved public spaces: Crissy Field. I had the privilege of working on graphics and community engagement for Crissy Field Next, a community-based redesign effort that would retrofit the park to meet local needs for the next 20 years.
As a designer, community engagement work is one of my absolute favorite parts of the job. I love hearing comments from real users and seeing the looks on their faces when they see their ideas come to life in a project.
Sam Woodhams-Roberts, Jamie Phillips, Kate Lenahan, Sterling Larrimore
Golden Gate National Recreation Area
Community Engagement, User Research, Photoshop, Sketchup, Lumion

CONTEXT
Before I even started working at CMG my colleagues, along with the National Park Service, began a planning process that engaged a diverse range of stakeholders and community members. The idea was to get out into the community and hear perspectives from all sorts of San Franciscans that would inform our design. The initial community engagement process included workshops, "Roving Ranger" exhibits, and experiential tours, all of which gathered feedback that was used to inform our design.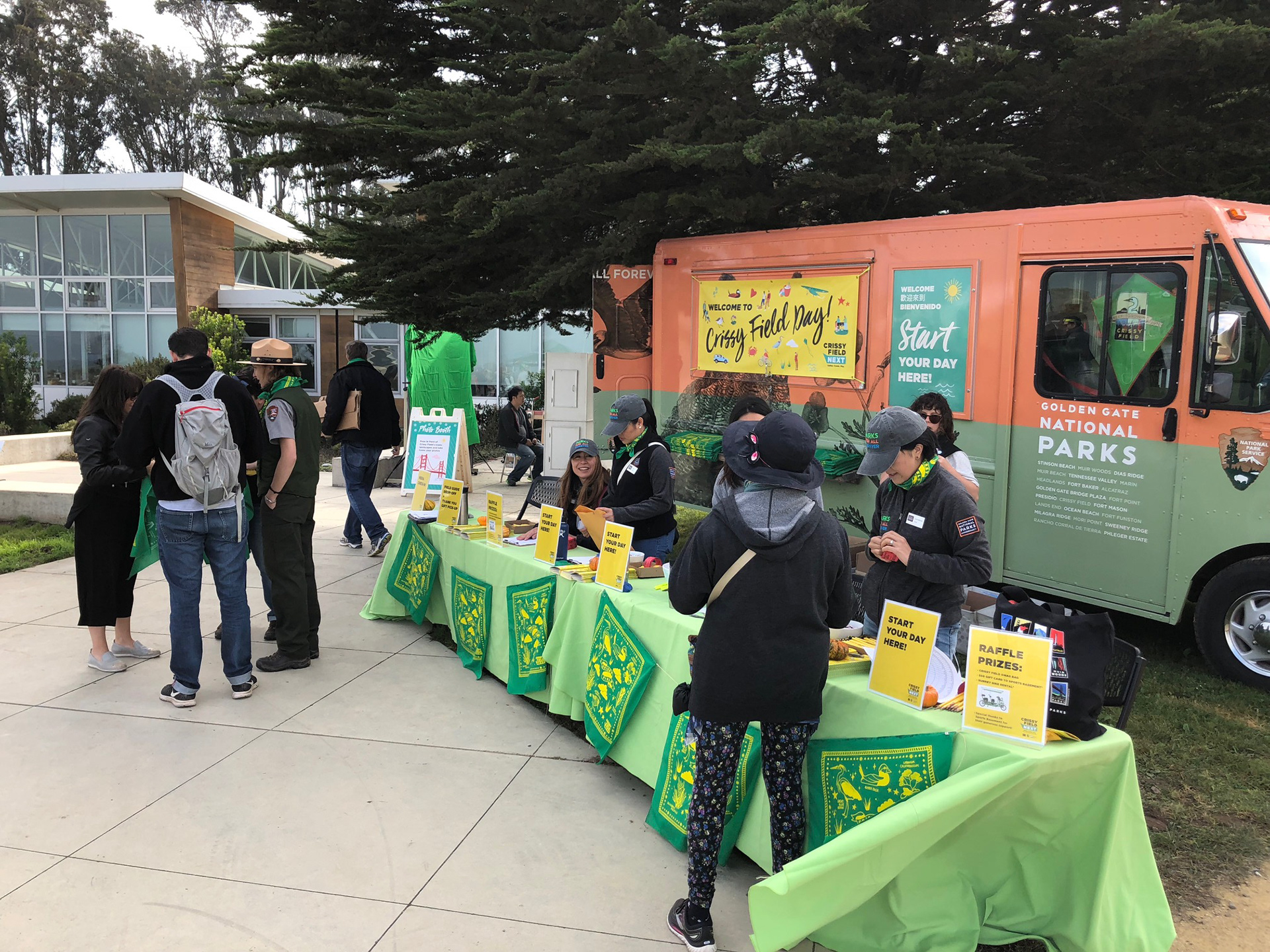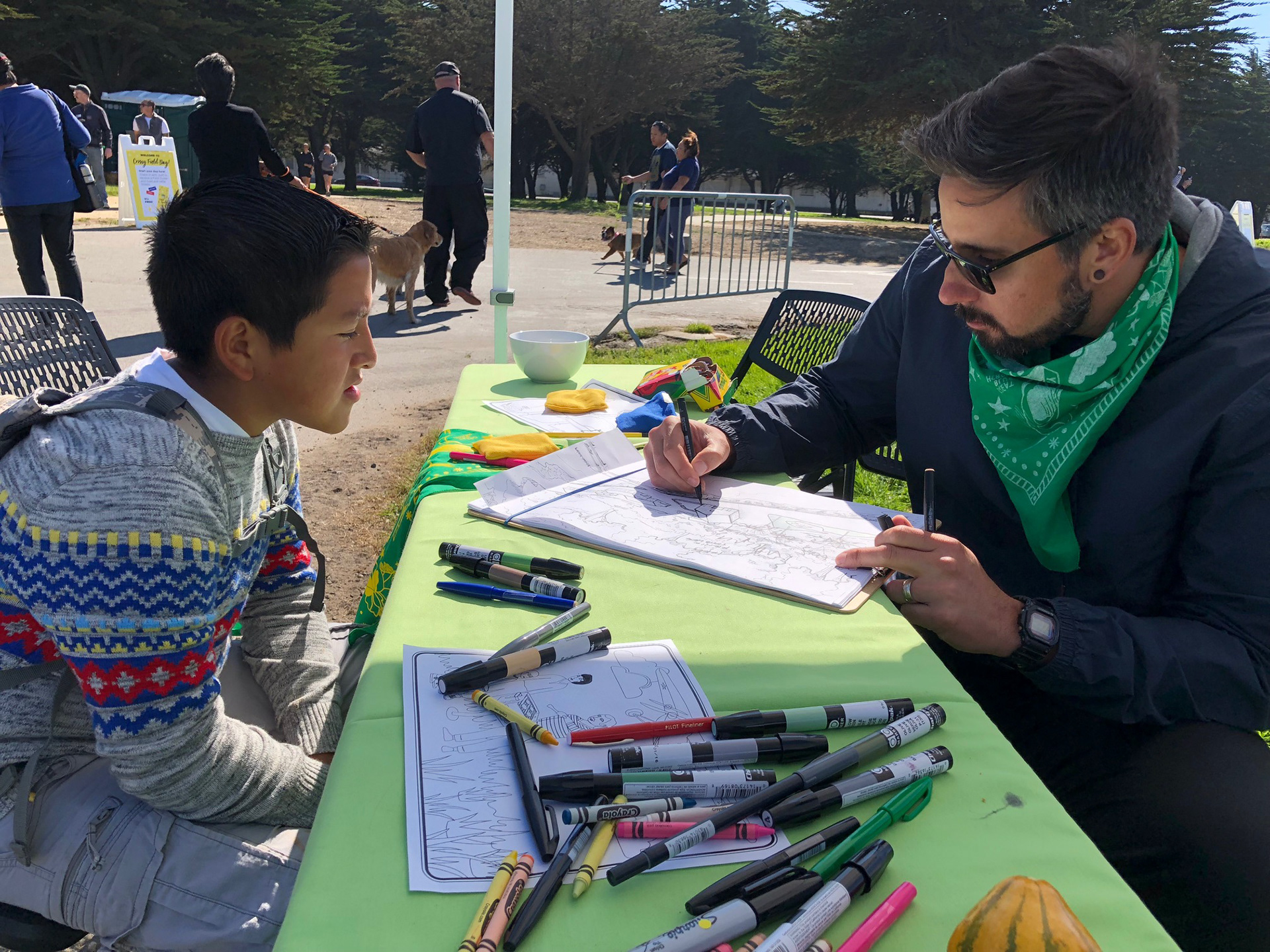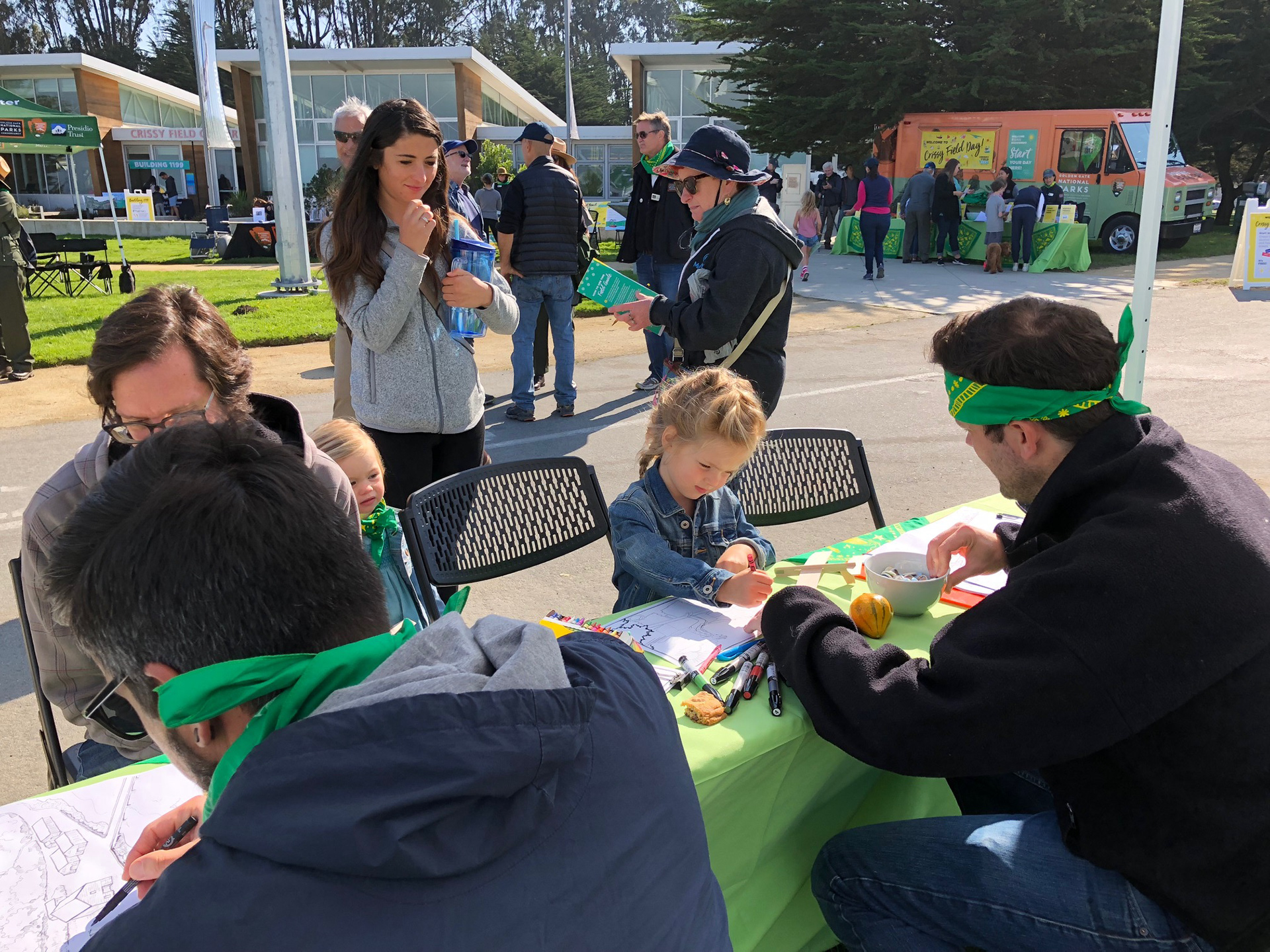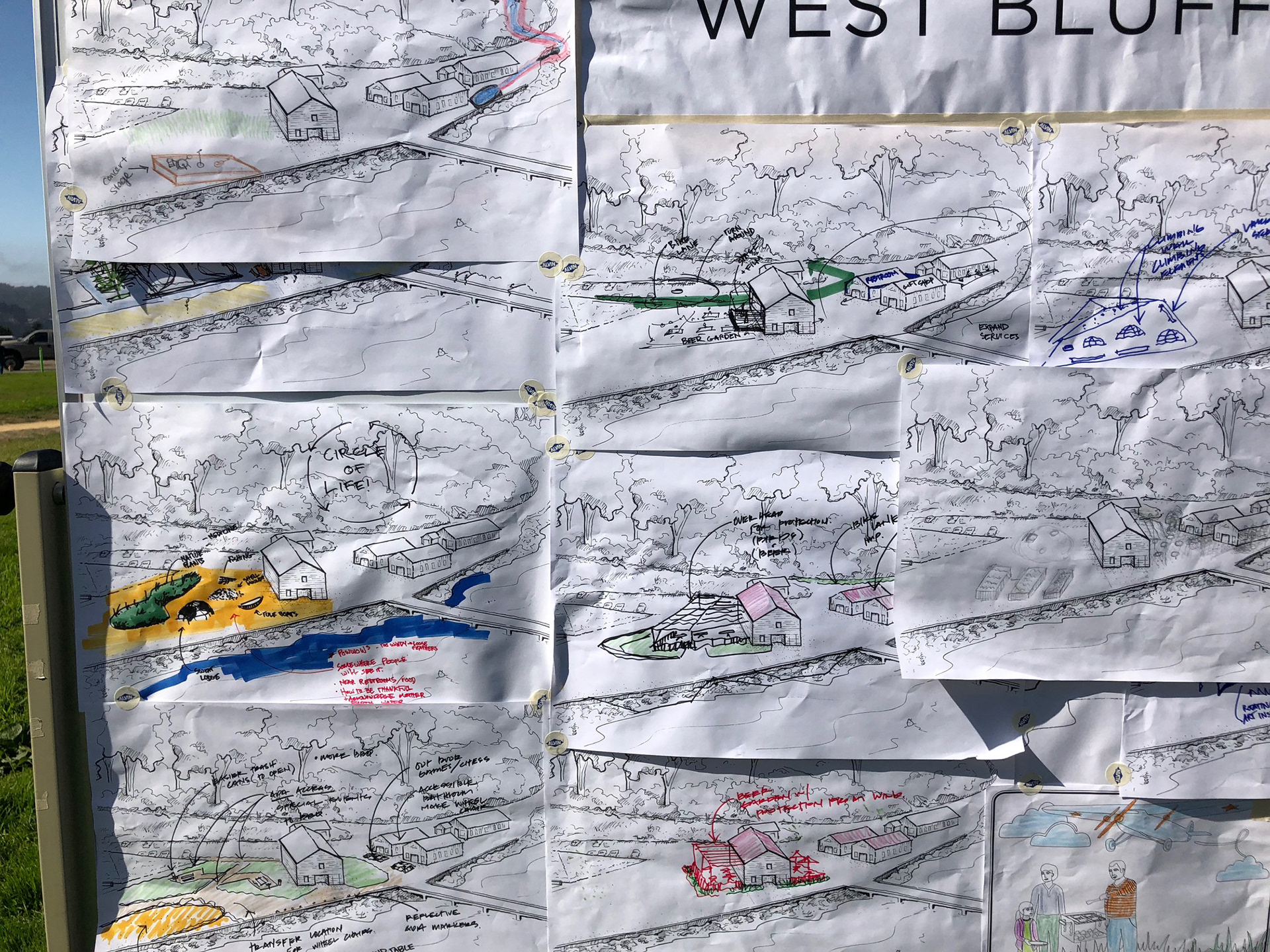 The results of the first round of community engagement were summarized by CMG and the National Parks Service into an easy-to-digest infographic. Key findings were summarized into a concise list that set up our goals and priorities for the upcoming project. Our team used this artifact throughout the design process to guide many important design decisions such as what sort of programming to include on the site.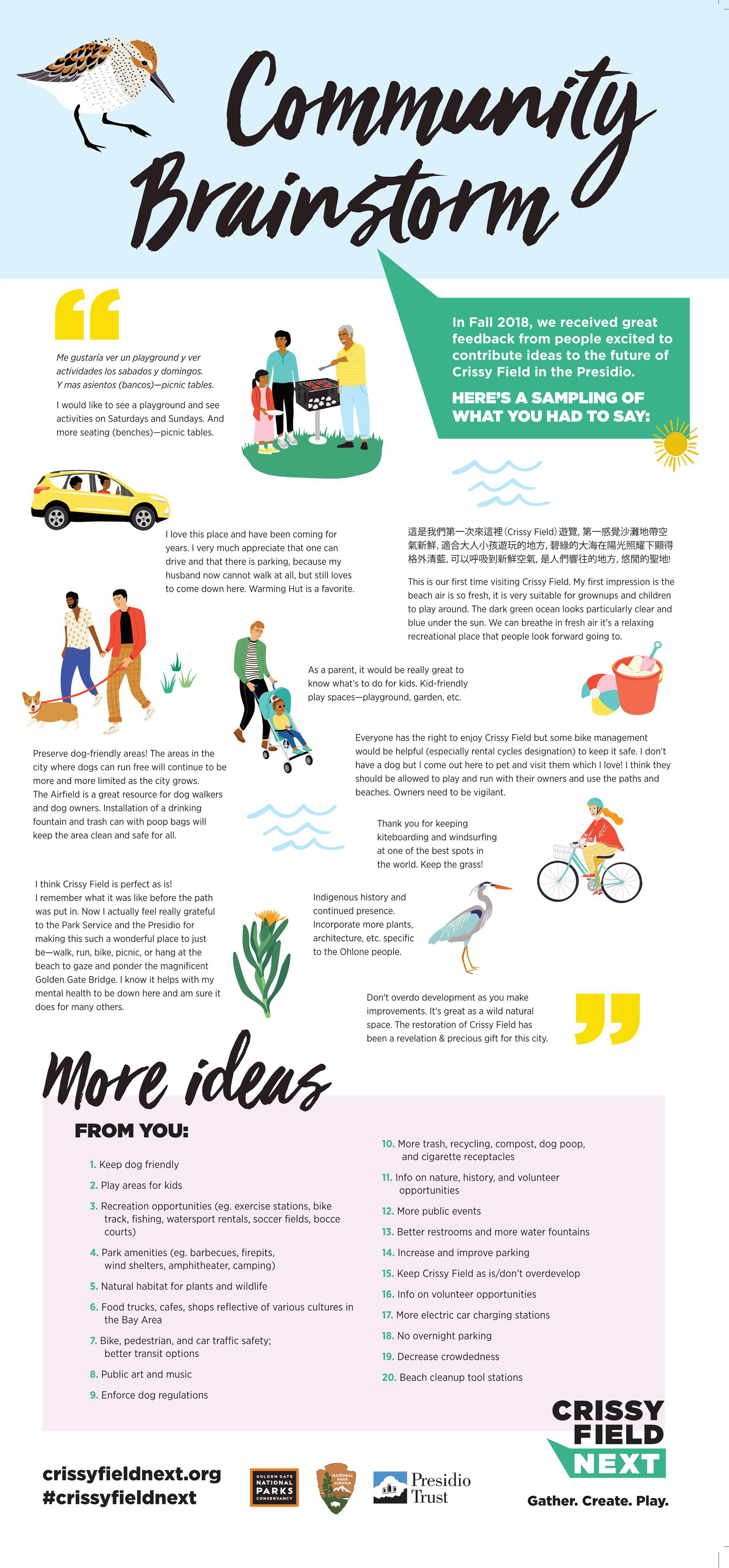 At the end of the first round of community engagement, CMG had found that most of the comments about Crissy Field were focused around five key areas in the park. We took the feedback offered by the community and ranked their comments of each area based on popularity. This allowed us to develop specific goals and priorities for each project area, and gave us clear direction on what sort of design outcome was expected by the community. Below is a diagram we made to visualize our priorities based on their location within the park. This diagram would serve as a valuable resource and reminder of community needs as we began to translate verbal desires from the community into tangible design elements.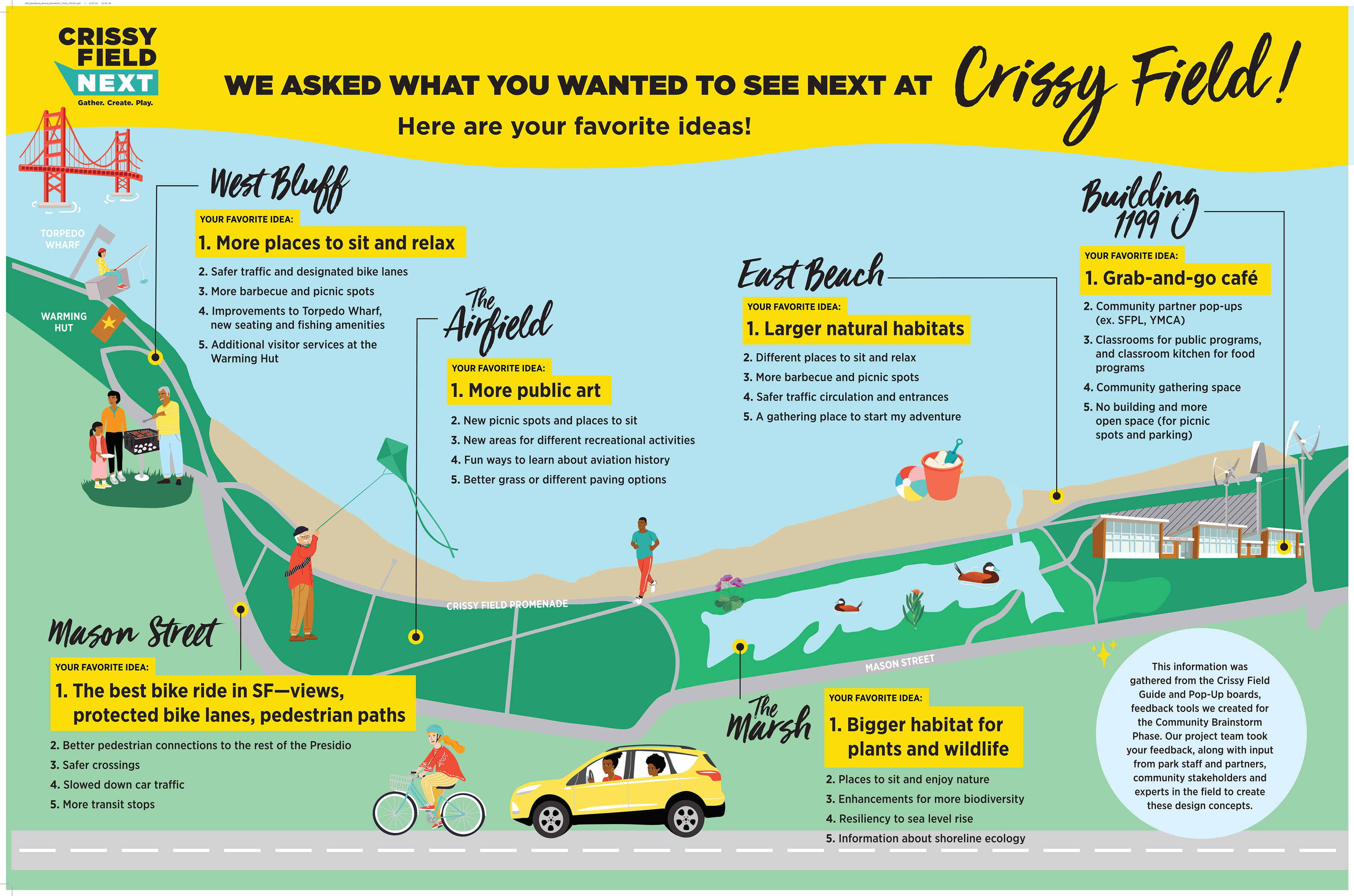 DESIGN FOR THE COMMUNITY
Now that we had clear project goals, my team began a design sprint that took those goals and translated them into an implementable landscape design. Although I was largely removed from the production during this phase due to other project needs, I frequently attended meetings that kept me updated on the project's progress.
One key decision we made during this phase was to concentrate our design efforts on the five key areas that we had identified in the community research phase. This helped set up the structure for our next round of community engagement. where we would have a presentation board and activity station for each of the five areas. Community members and people from the general public would move around the room, stopping at each station, and provide feedback while having their questions answered by a volunteer.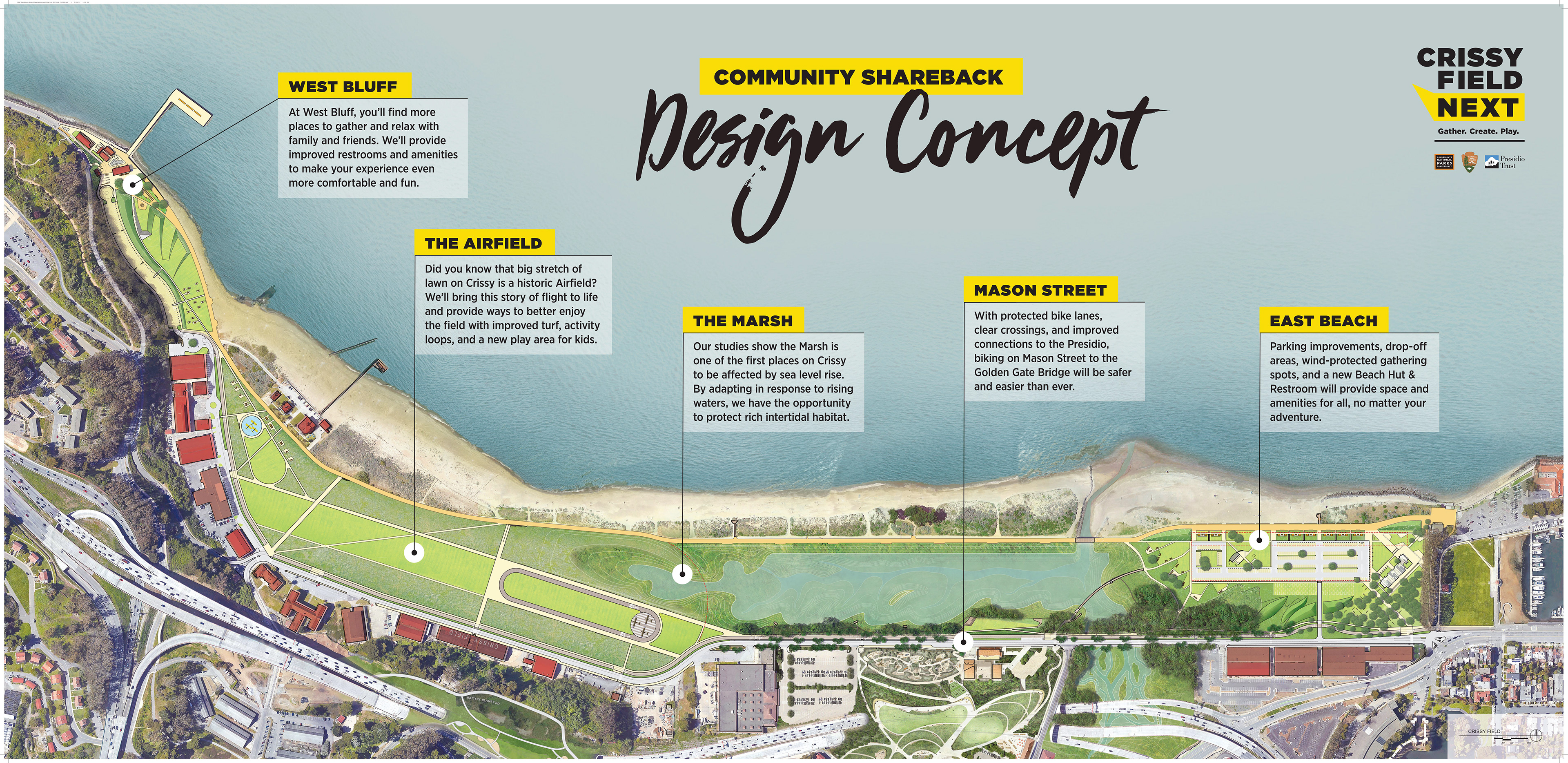 THE RENDERING PROCESS
My greatest contribution to this project was creating immersive renderings that best represented the proposed design for each of the five key project areas. These renderings would act as the backdrop for each of our five activity stations during the next round of community engagement, and their main purpose was to spark conversation and make sure that the community's vision was aligned with ours.
Early on in the process, before the metaphorical pen touched paper, my team decided that it was important that the renderings take on a collage-like character. This way the designs we showed the community would be less likely to be seen as a finished design, but rather a work-in-progress that community members can propose changes to.
The rendering process began with a site visit, where my team and I took photos of existing conditions. After returning to the office, we chose photos which best represented the five project areas, and sketched initial ideas over them. Once a basic concept was sketched for each rendering, I developed a basic 3D massing model to help set up the perspectives and serve as the bones of the image. I then created a collage consisting of the existing image and proposed 3D model in photoshop, and livened it up with textures, plants, and people. The final immersive renderings were passed on to our team's graphic designer, who incorporated the images into boards that were printed and displayed at the community engagement event. 
Below is a slideshow of the final boards that we displayed at the upcoming community engagement event. We made sure that our boards were easily legible, adding clear annotations in San Francisco's three most common languages to increase engagement from as many community members as possible. We also made sure to include a photo of existing conditions to demonstrate exactly which elements were being changed in the design. 
CRISSY FIELD DAY
On June1, 2019 my team and I showed up to the Crissy Field Center for the big community engagement event we had been working towards for the past few months. The room was split up into five stations, each representing a specific focus area of our design. Before doors opened to the public, the design team, employees from the Golden Gate National Recreation Area, and volunteers gathered for a quick briefing of the day's schedule. I was assigned to the Airfield station, along with my colleague Sam.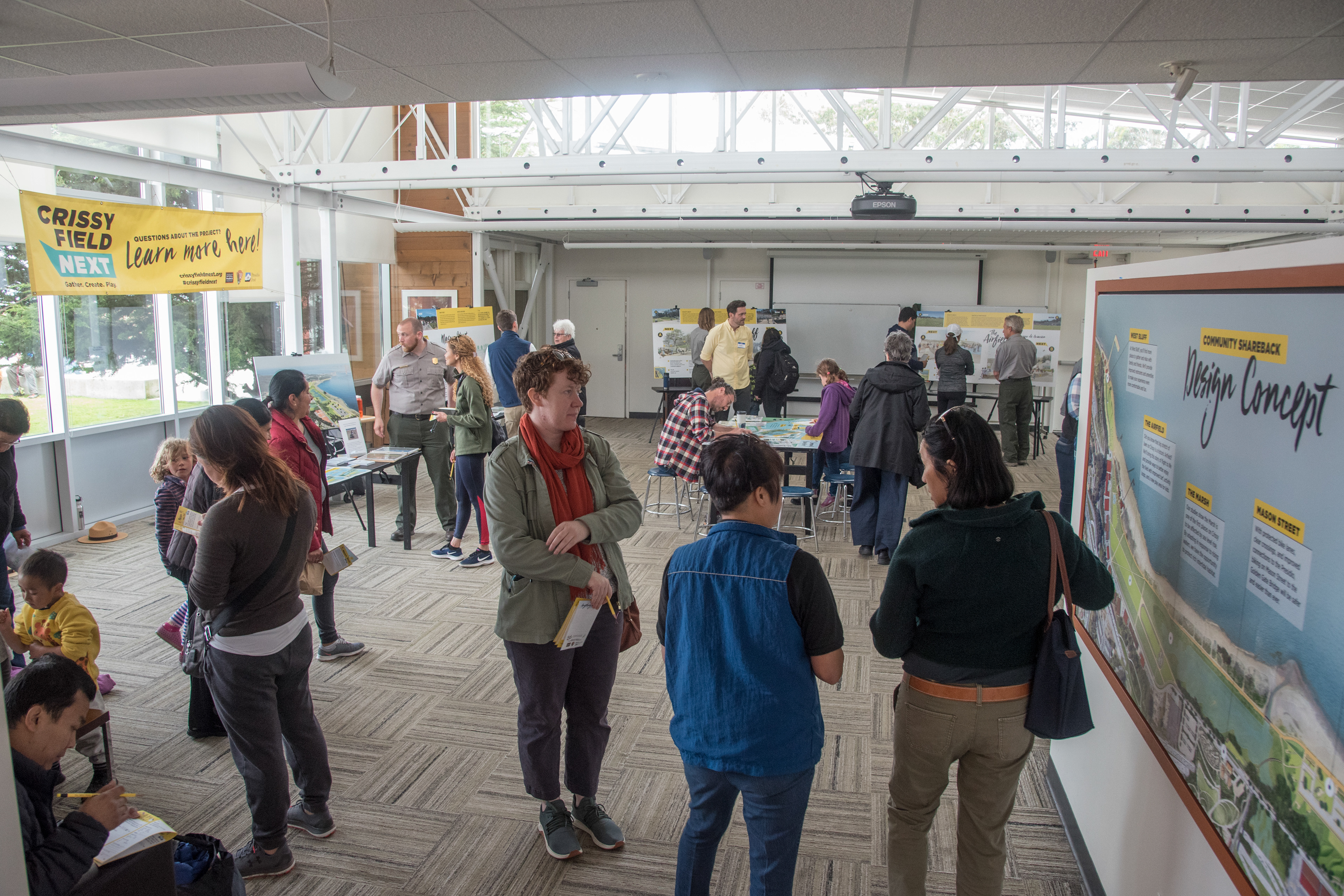 Throughout the day, people from all walks of life came to our community engagement event, many enticed by the games and music outside. First they would check-in at the entrance and voluntarily leave their name and contact information. Everyone was given a feedback sheet, for which they would receive a custom deck of cards if they filled it out. They were then greeted by a large map of Crissy Field that served as an orientation to our design.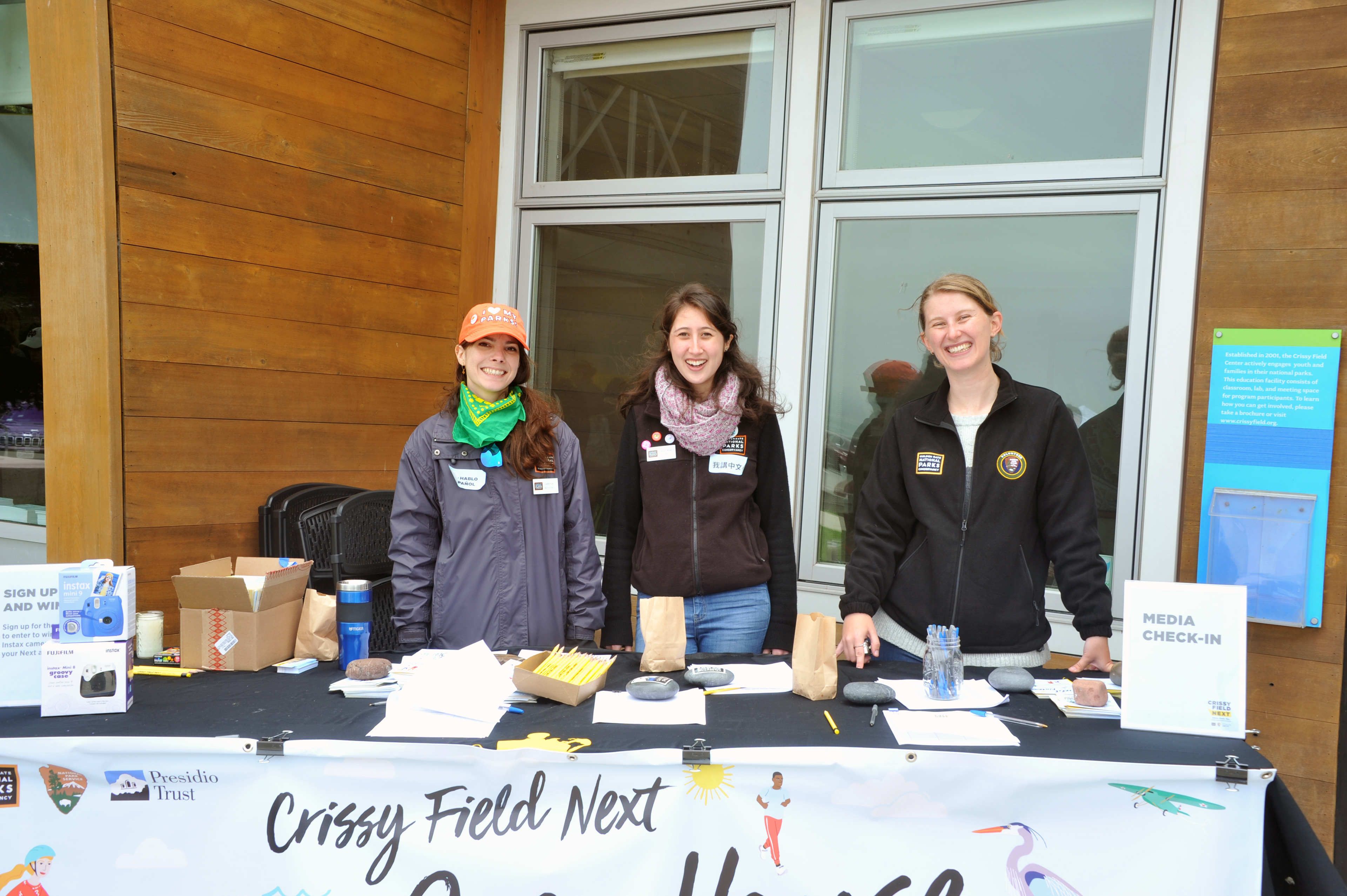 After a quick orientation, community members were invited to walk around the room on their own, asking questions about each design area and recording feedback on their sheet. As people came up to my station, I would give them a quick overview of the design and then let them look at our drawings in detail and see if they had any questions. If the person I was speaking to had comments, I would record them on a sticky note and encourage them to make a similar note on their feedback sheet. It was very encouraging to hear what a positive response our design received from the community.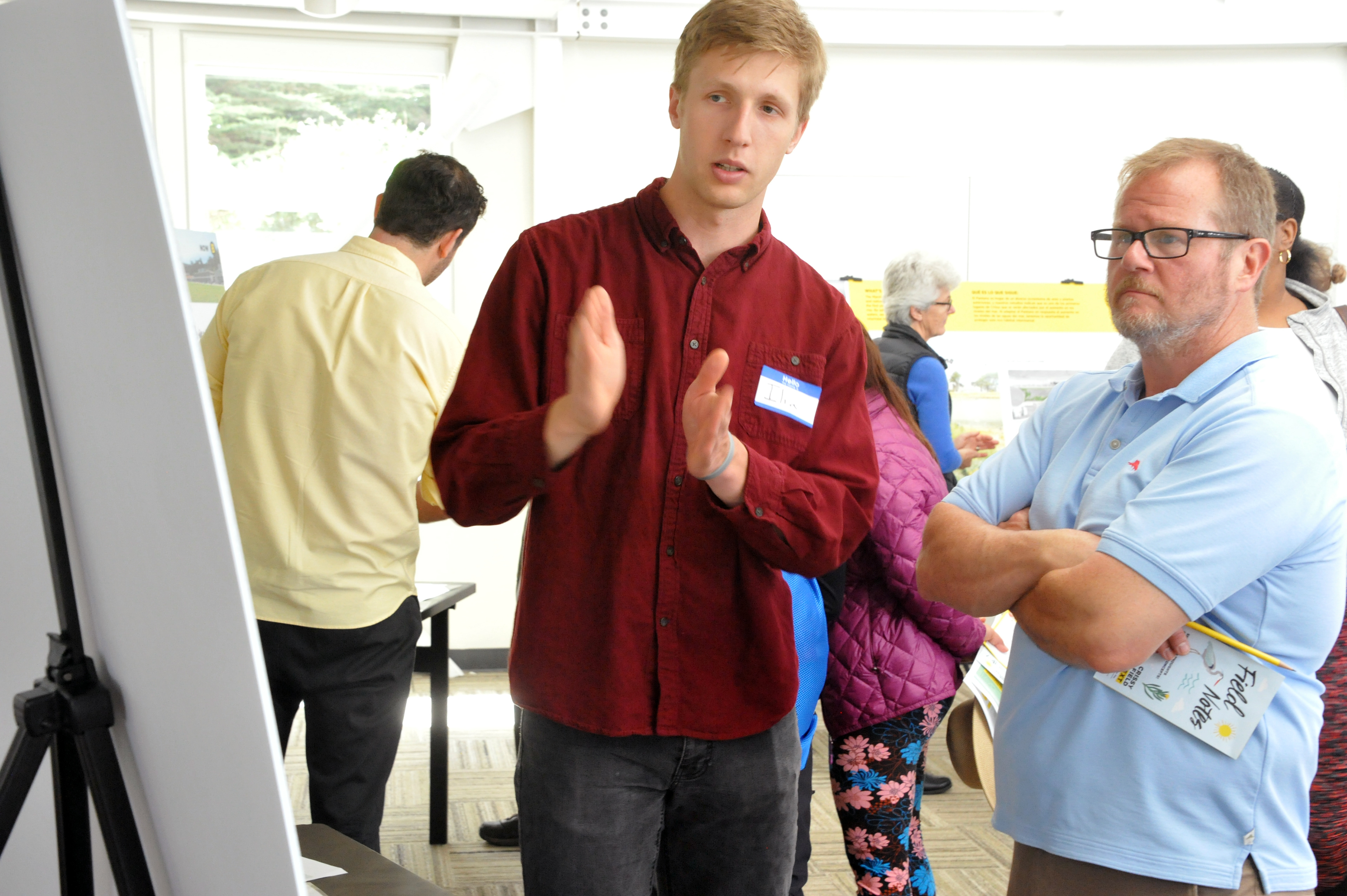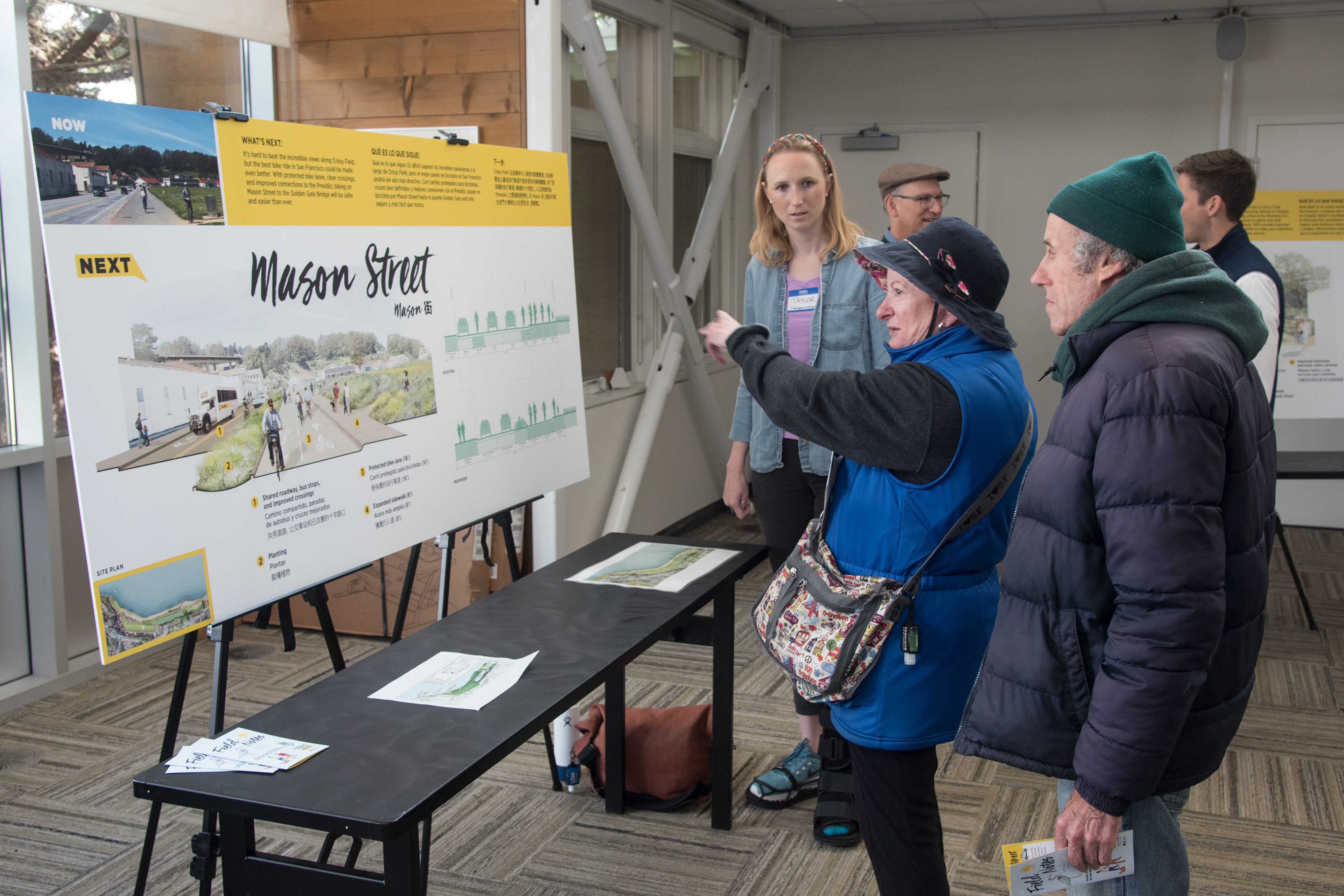 A huge part of this event was to hear as many diverse voices as possible. Some people knew about the event beforehand, but most of the people who came in were simply enjoying a day in the park and were asked to come in by some volunteers. The planning committee also made sure to time the event with a free shuttle that runs between Crissy Field and low income communities during the weekends. In order to receive as much diverse feedback as possible, the activity boards and feedback sheet was published in a number of different languages, and participants were encouraged to respond in their native language.

Crissy Field Day was not only an event to gather feedback from the community, but a celebration of the park and those who use it. Alongside our design boards was a coloring and activity table for children, a snack station out back, and hula-hoops and other lawn games in front of the building.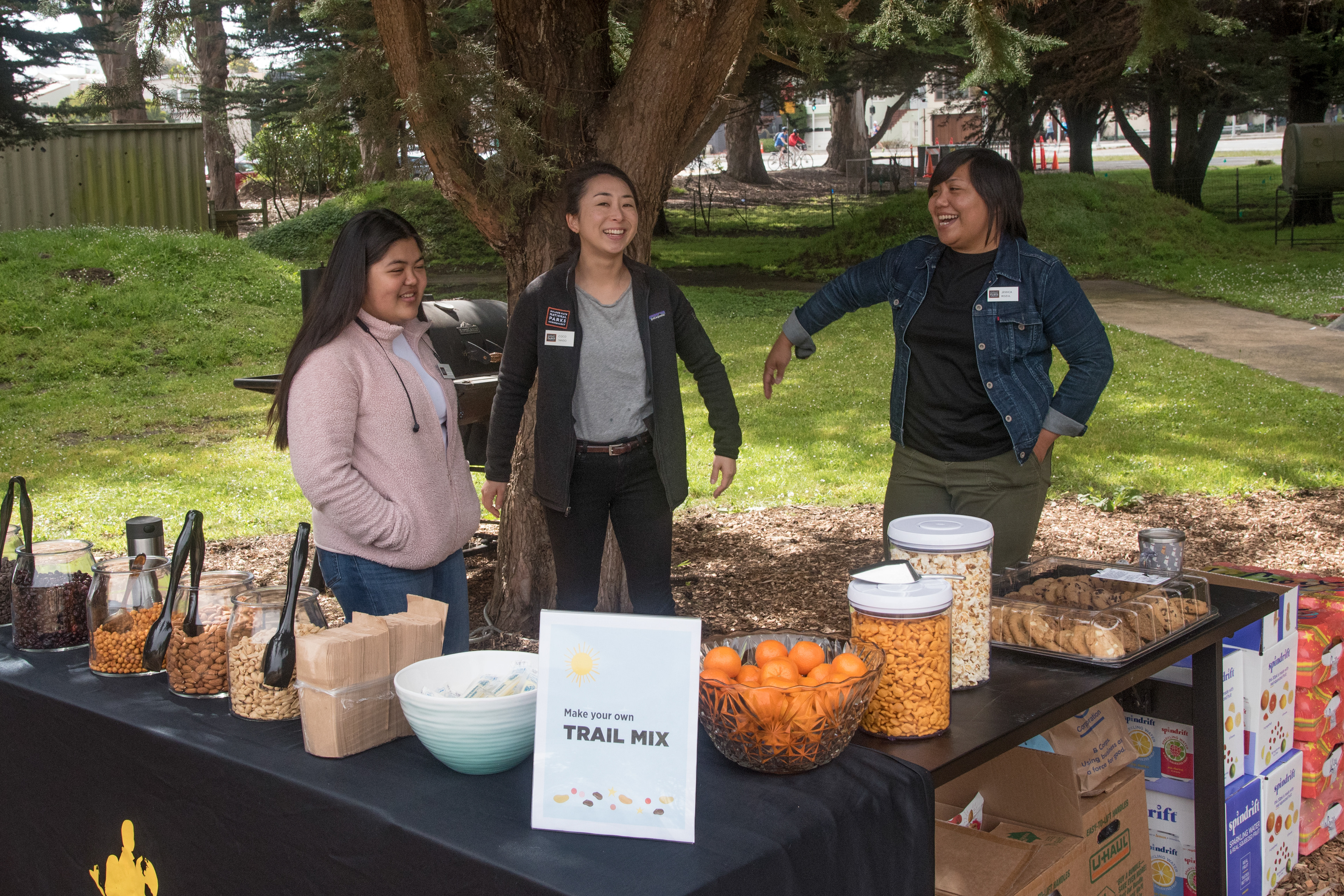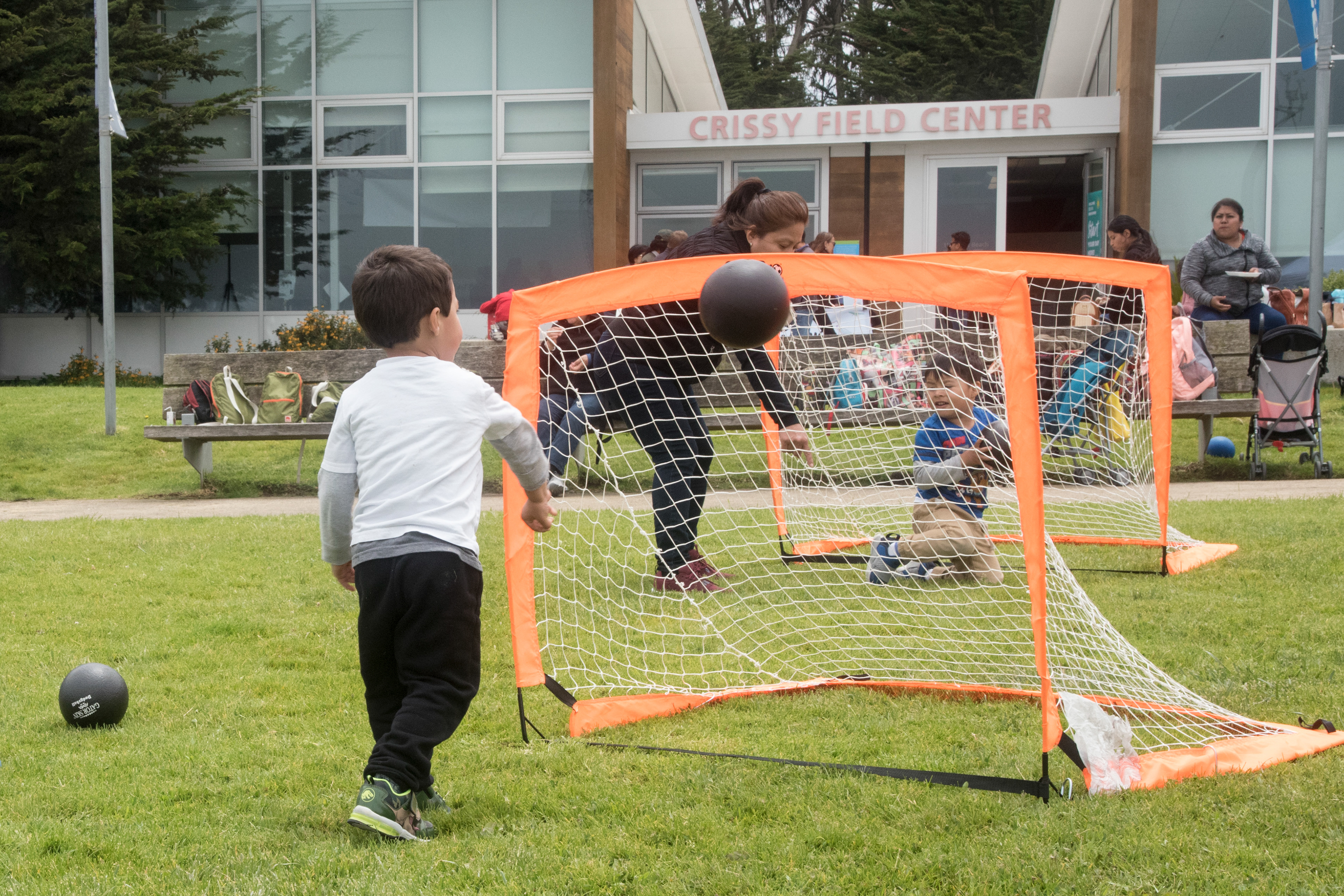 DATA COLLECTION AND ANALYSIS
The Crissy Field Day community engagement effort proved incredibly valuable to our design process due to the data and feedback that we gathered from the community. As mentioned earlier, each person who joined us for the community engagement effort was given a feedback sheet which we called "Field Notes".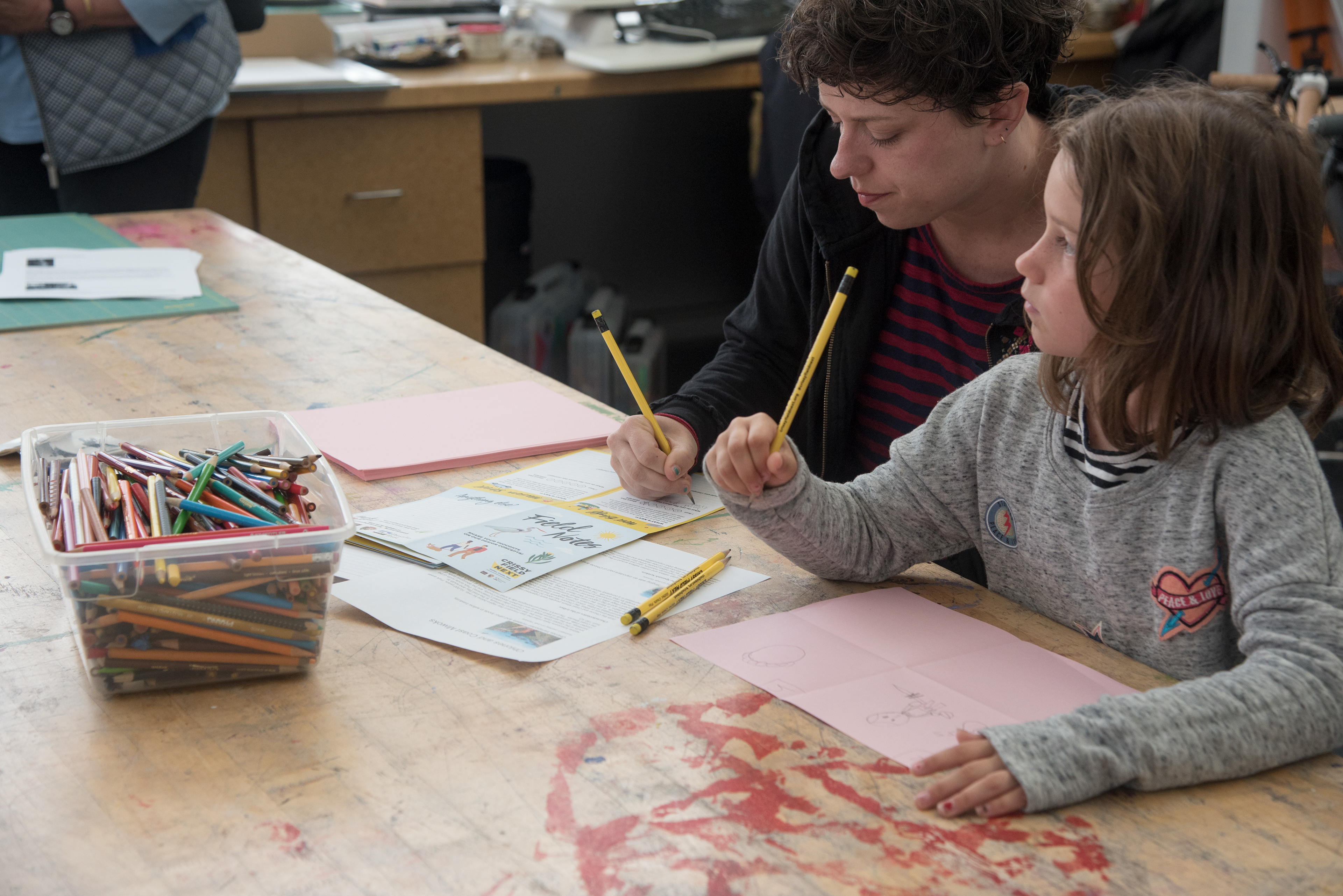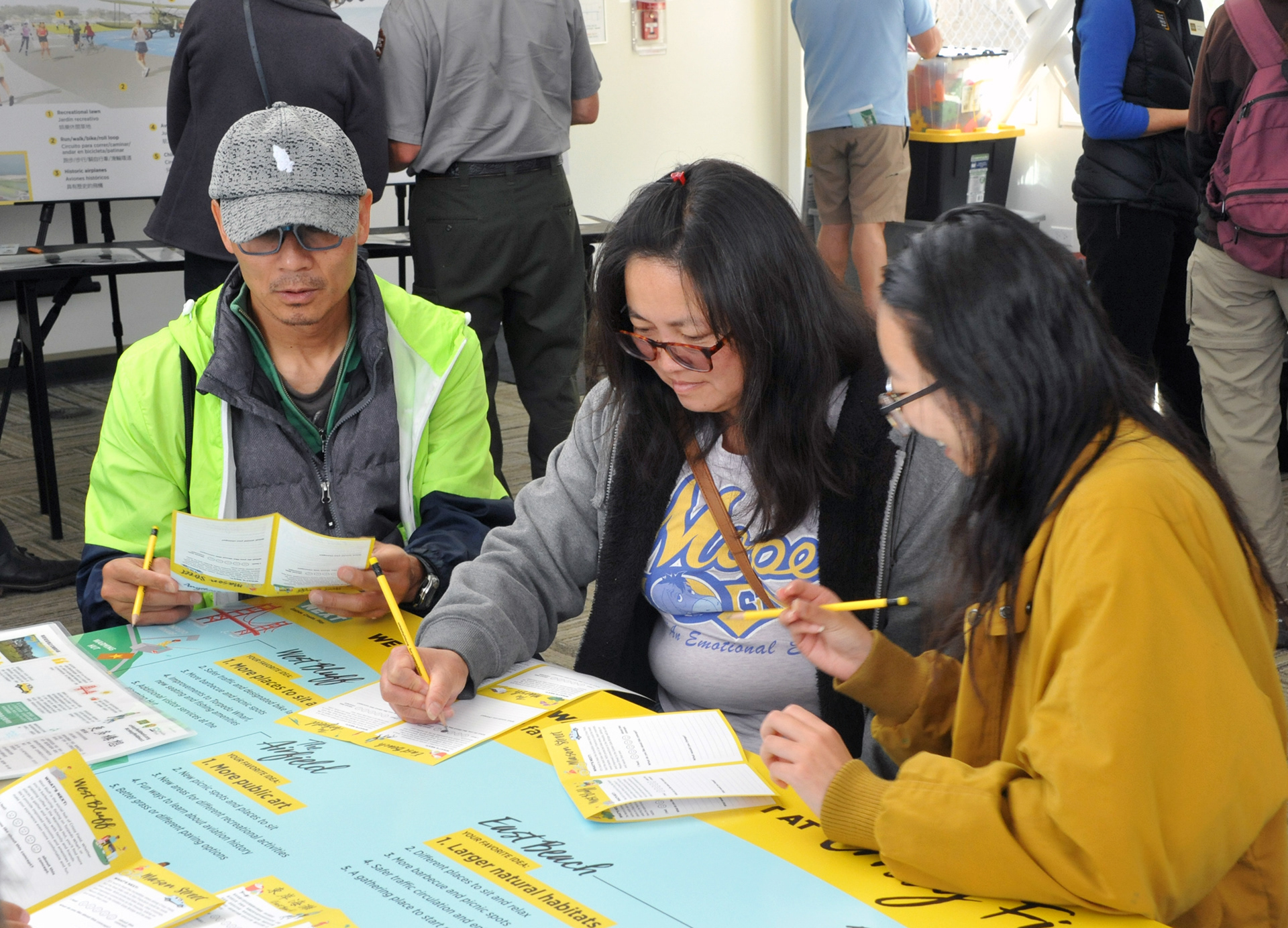 At the end of the day, our team had collected completed "Field Notes" sheets from 259 people out of the 472 that had attended our event. Their responses gave us valuable feedback about the demographics of the respondents and their general habits in regards to visiting Crissy Field.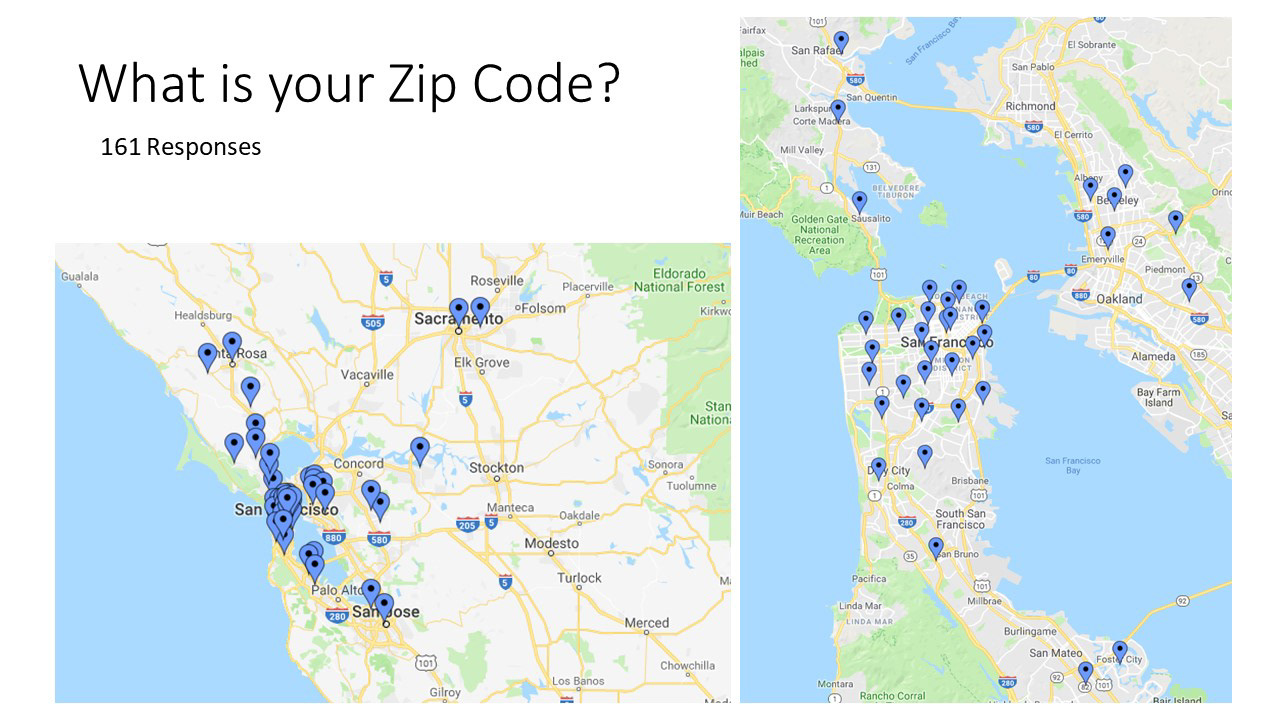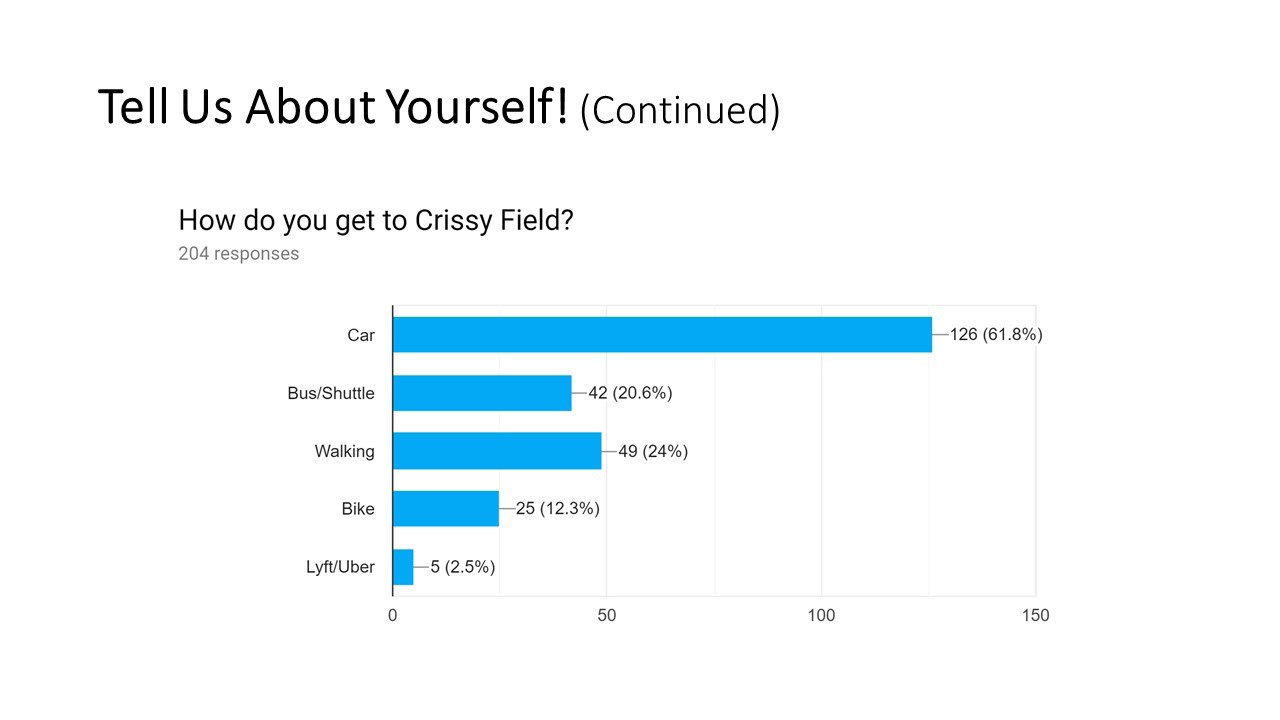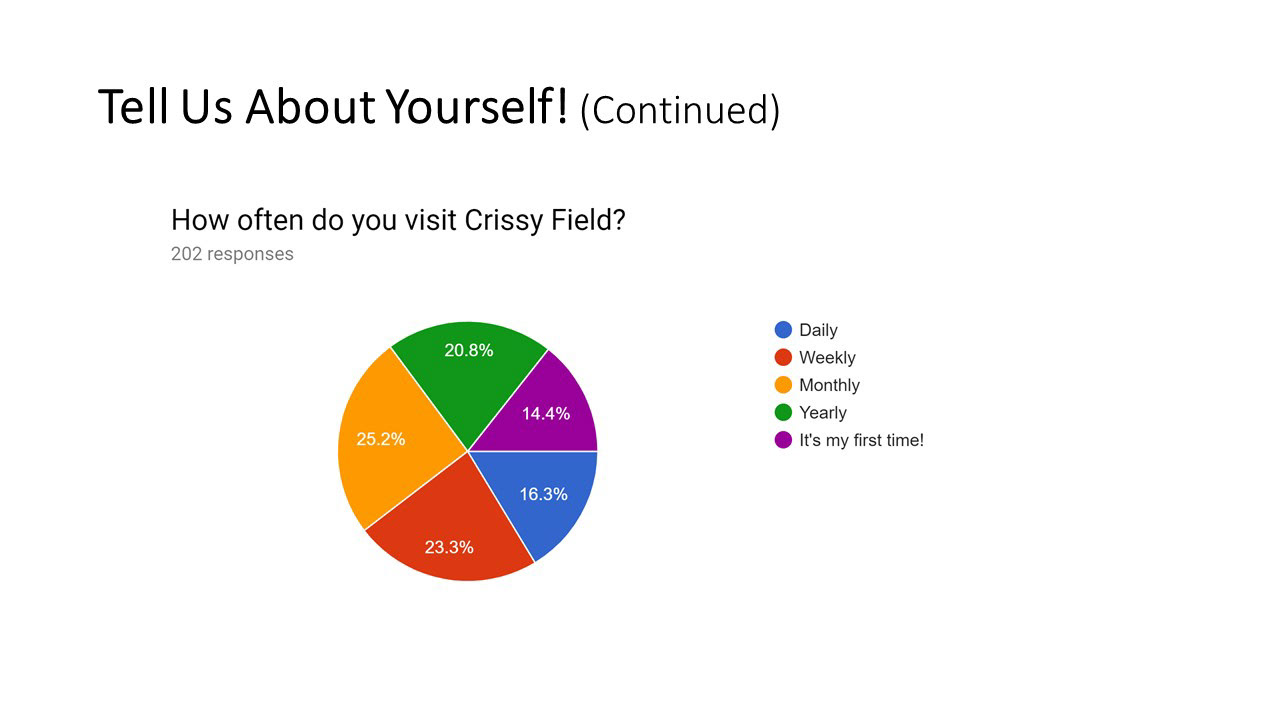 In terms of habits and demographics, we were left with a few key takeaways that will inform our future design. First, we noticed that the visitors of Crissy field were divided into two unique groups: One group consisted of people within San Francisco city limits that visited on a daily or weekly basis, and one that consisted of people from the greater region that visited on a monthly or yearly basis. This got us thinking about ways to accommodate both user groups, to make sure that we provide appropriate amenities for both. This also got us thinking about wayfinding, and how we can help orient first-time or infrequent users who aren't deeply familiar with the park. 
We were also left with the realization that over half of all respondents arrived by car. Guided by our sustainability goals, this got us thinking about ways in which we can improve access to the park via alternative transportation methods. We were also interested to find that most respondents visited Crissy Field mostly to just stroll through the park. This data relating to primary reasons for visiting helped us identify what design elements we should focus on to have the greatest impact on the greatest number of users.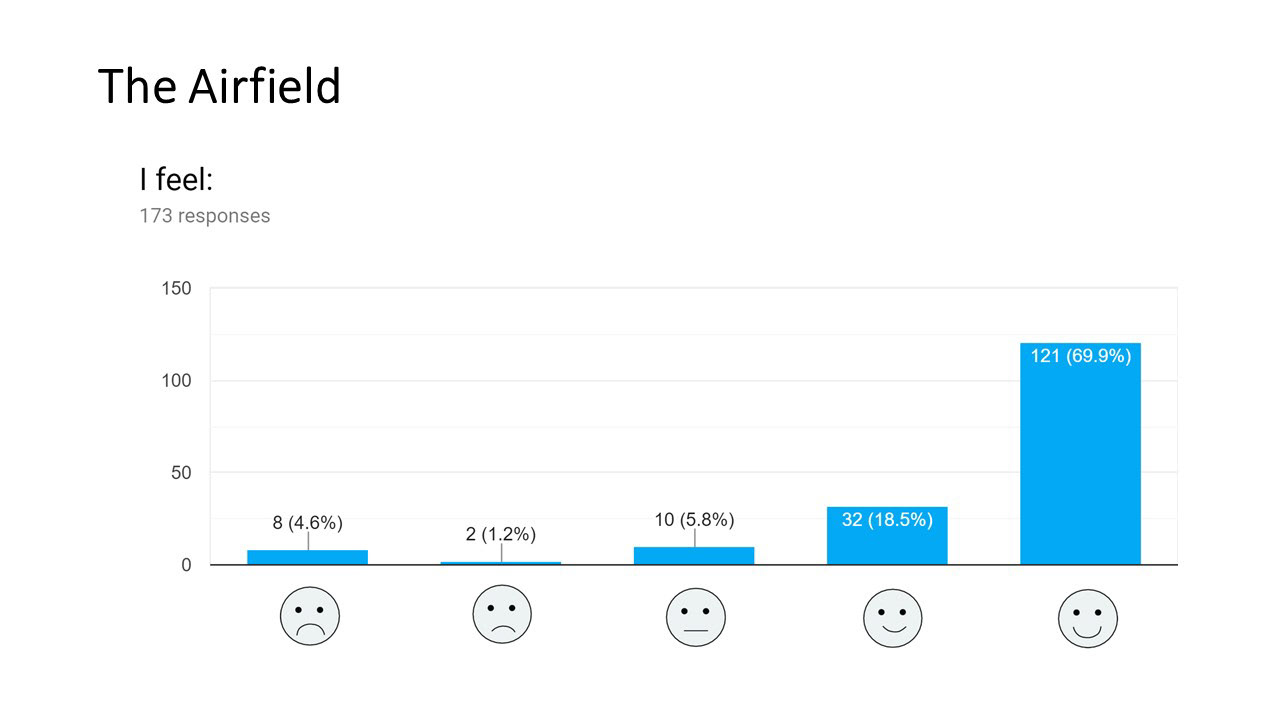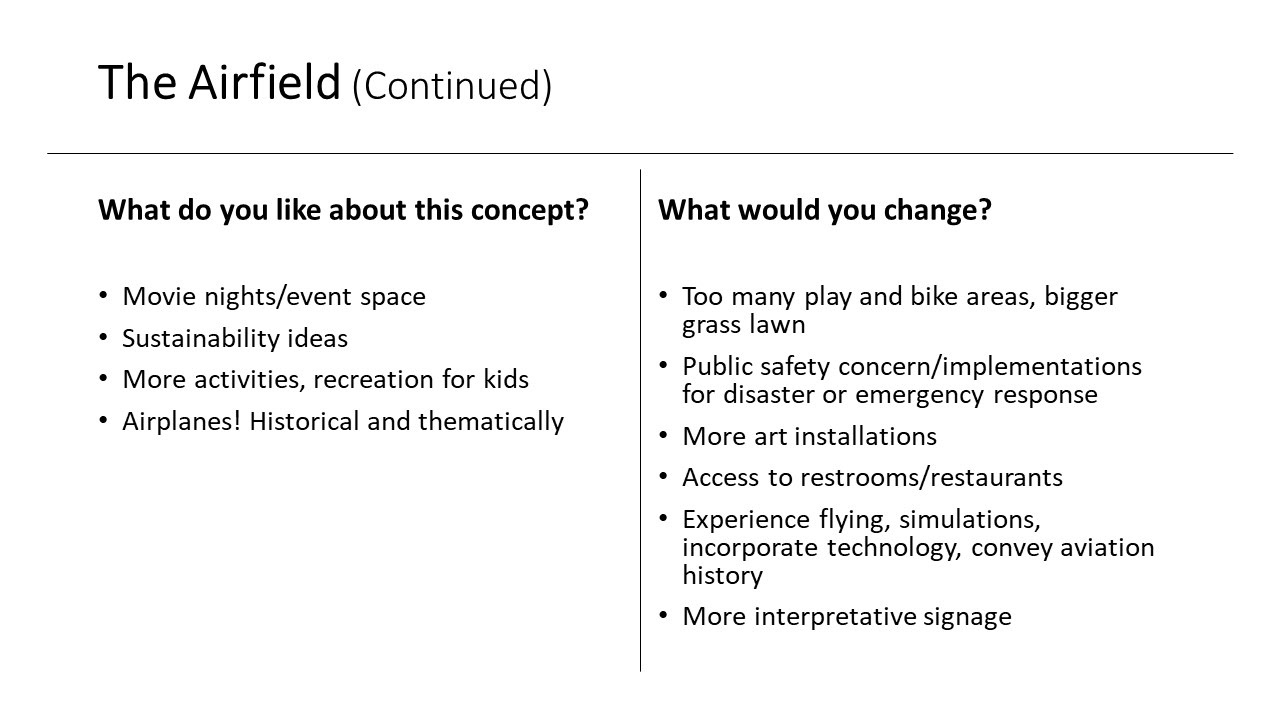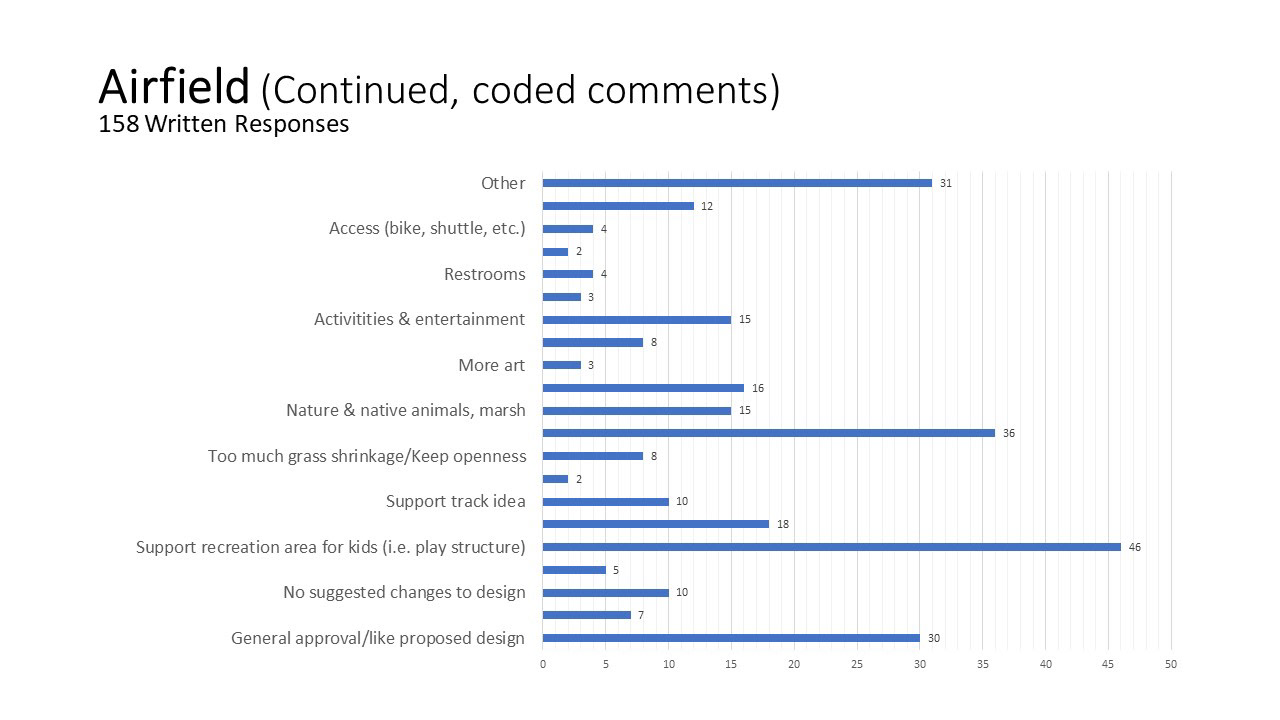 Another valuable insight we gained from our community engagement efforts had to do with feedback on our proposed design for each focus area. For each of our five focus areas, respondents indicated their general feelings about the design, what they liked about the design, and what changes they would make. What we found was that the community was overwhelmingly happy with the proposed designs for each area, indicating that our mindful incorporation of past community feedback had worked as intended. Although the response was generally positive, we also saw instances of strong support for certain elements to either be added or removed from the project. Even though it is impossible to please every visitor of Crissy Field, comments that were seen repeatedly during our engagement efforts will be addressed during our next round of design iterations.
RESULTS
Crissy Field Day was an amazing success, and provided incredibly valuable feedback to the design team and our client. Comments from the feedback sheets were summarized into a report that was shared with the community and published online. The next step is for the project to undergo a formal planning and compliance process, which will be spearheaded by the National Parks Service in the near future. In the meanwhile, community feedback has been carefully recorded and documented, and will be incorporated into our next round of designs once CMG gets the green light from our client.
The graphics I created for the event were well received by the community members, and served as a valuable tool for sparking conversation and eliciting feedback. Community members who were part of the initial engagement process were incredibly happy to see how their comments were integrated into the new designs. Internally, the immersive graphics were commended for being some of the best to have come out of CMG that year.