The San Francisco Seawall Project is a long-term planning effort to prepare the city's waterfront for the effects of sea level rise. Working on this project was a dream come true for me, since I have been fascinated by the design of climate change resilient cities ever since I began my career as a landscape architect. Since this is an incredibly long-term effort that is looking a century ahead to 2120, this project is at its infancy and constantly evolving. Working under this uncertainty proved challenging, but also served as a great opportunity for our design ideas to guide the trajectory of this monumental project.
Nico Wright, Kate Lenahan, Lauren Hackney, Wesley Cogan
Community Engagement, Illustrator, Photoshop

IDENTIFYING RISK

The first step in our team's process was to familiarize ourselves and our client with the risks San Francisco's waterfront faces due to sea level rise. We began by gathering GIS data from the Port of San Francisco, and created a base map that we would use to inform our thinking for the rest of the project. We gathered information from a variety of sources and overlaid it on the map including major streets, buildings, open space, and key topographical elevations along the waterfront. In addition, we overlaid a likely sea level rise scenario for 2100 (84 in.) which served as a baseline for our design moving forward.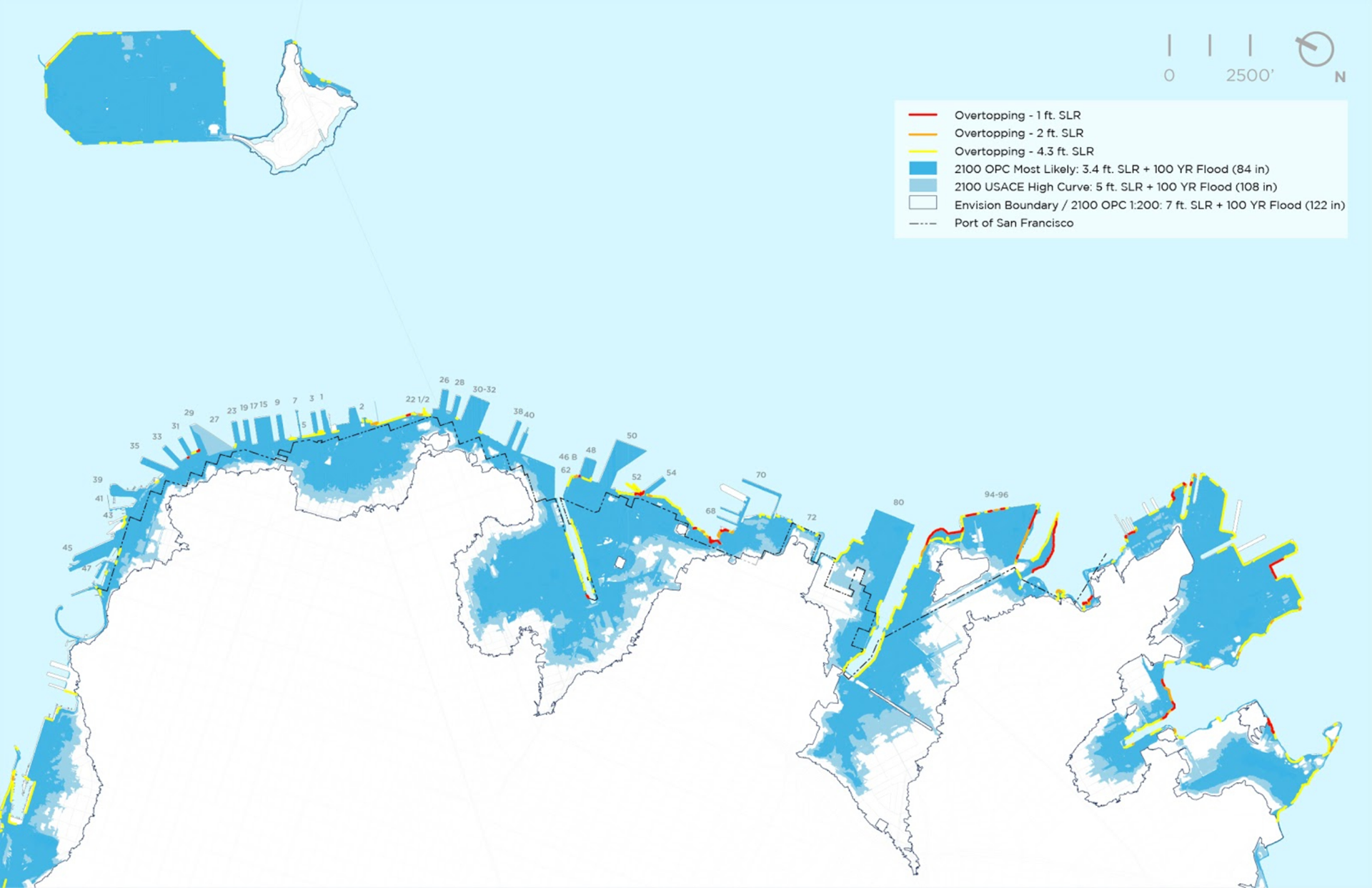 Stretching over 10 miles in length, the waterfront conditions along our project area were far from uniform. To better help us understand the interface between land and water, we were provided with cross-sectional sketches drawn by an engineer working at the Port who was intimately familiar with the waterfront. The sections corresponded to some markups that the engineer did on a map, so we were able to understand exactly where these conditions occurred along the waterfront.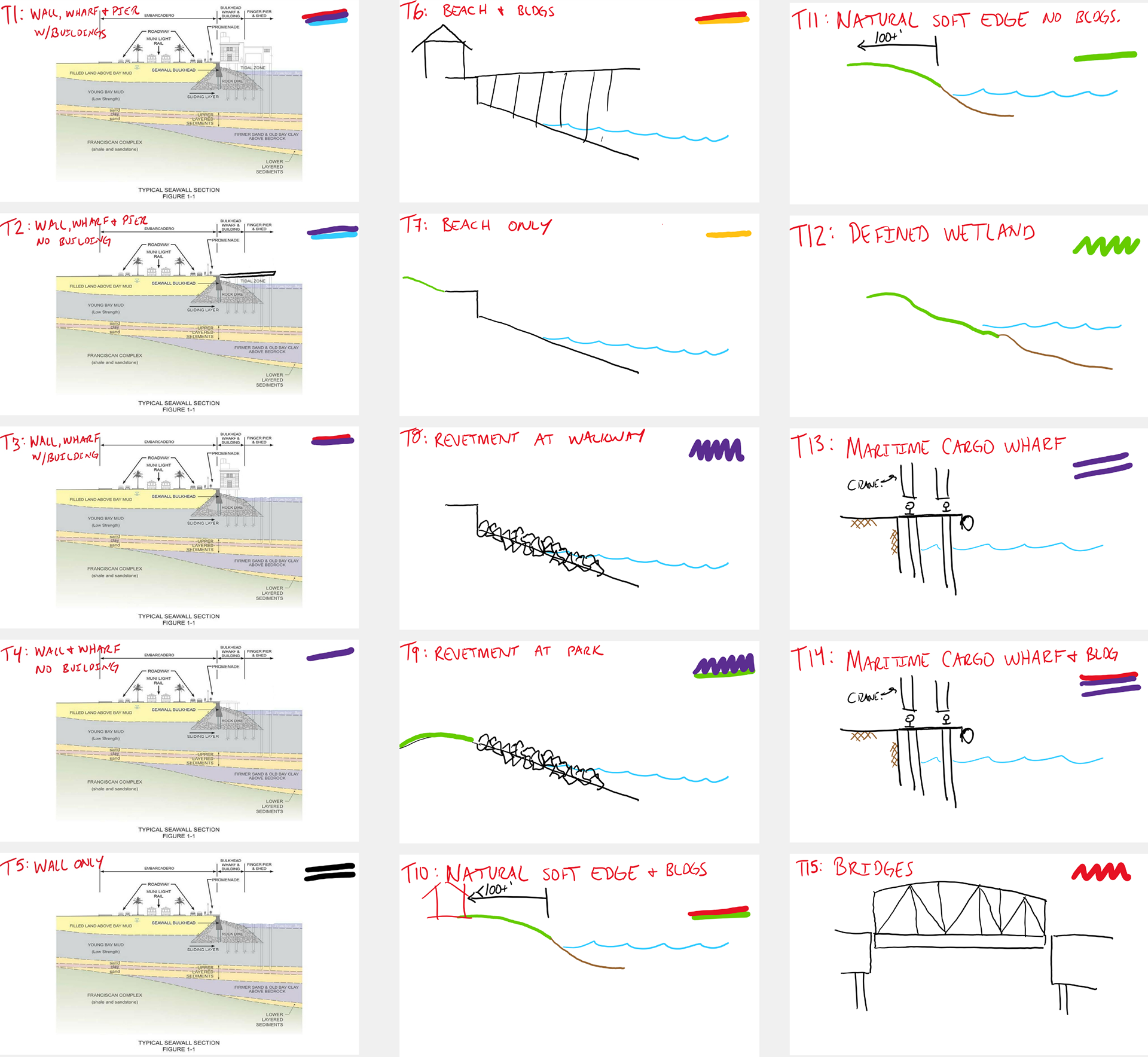 In order to guide the design of a high level strategy, my coworker Wesley and I began with finding a way to consolidate the engineer's 15 unique edge types into a smaller number of groups. This would allow us to propose high-level design solutions that would address all of the conditions that occur without getting into too much detail. We played around with two scenarios, one which grouped the edges based simply on the edge type, and one that grouped edges based on the constraints of the surrounding context.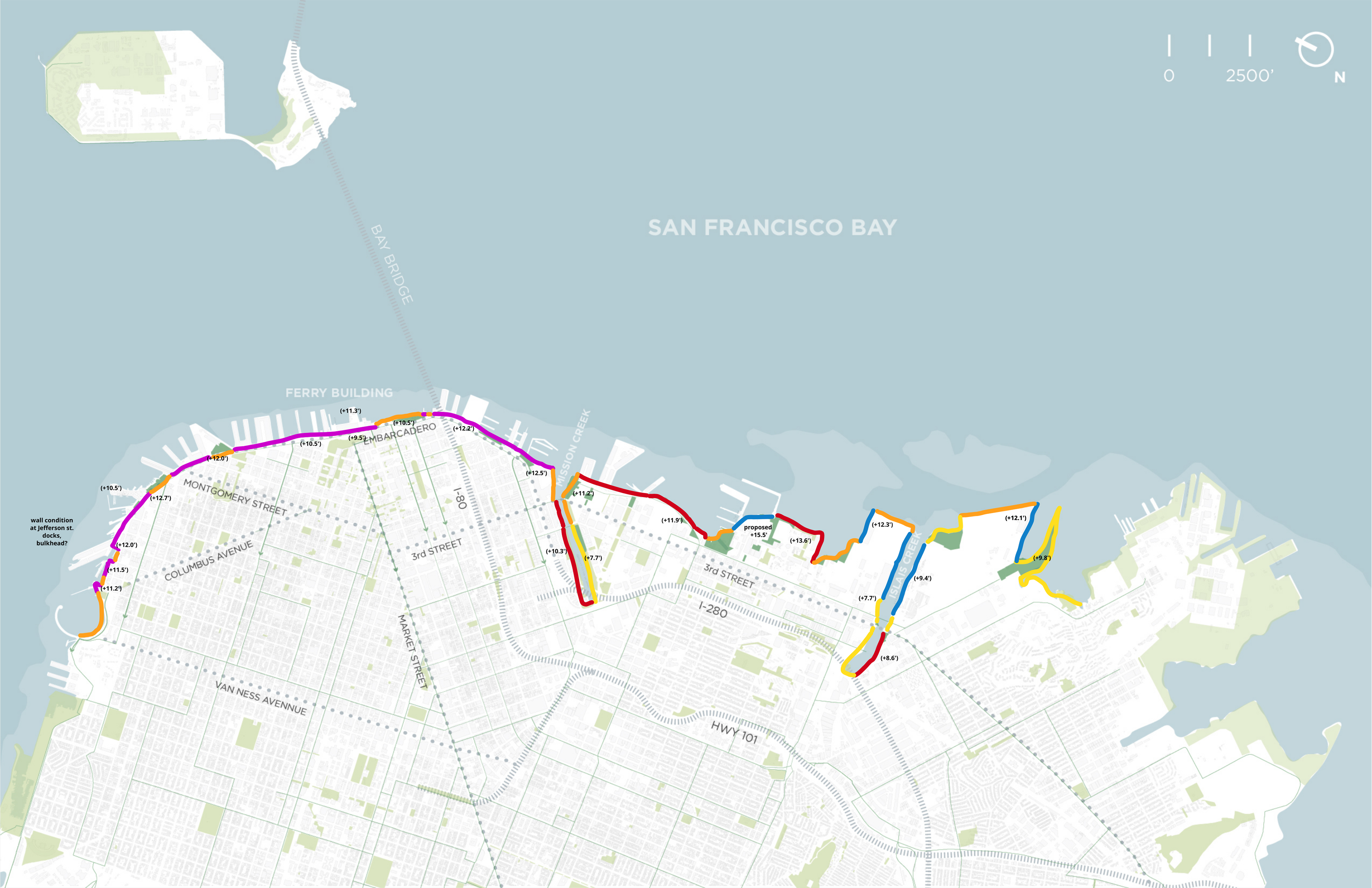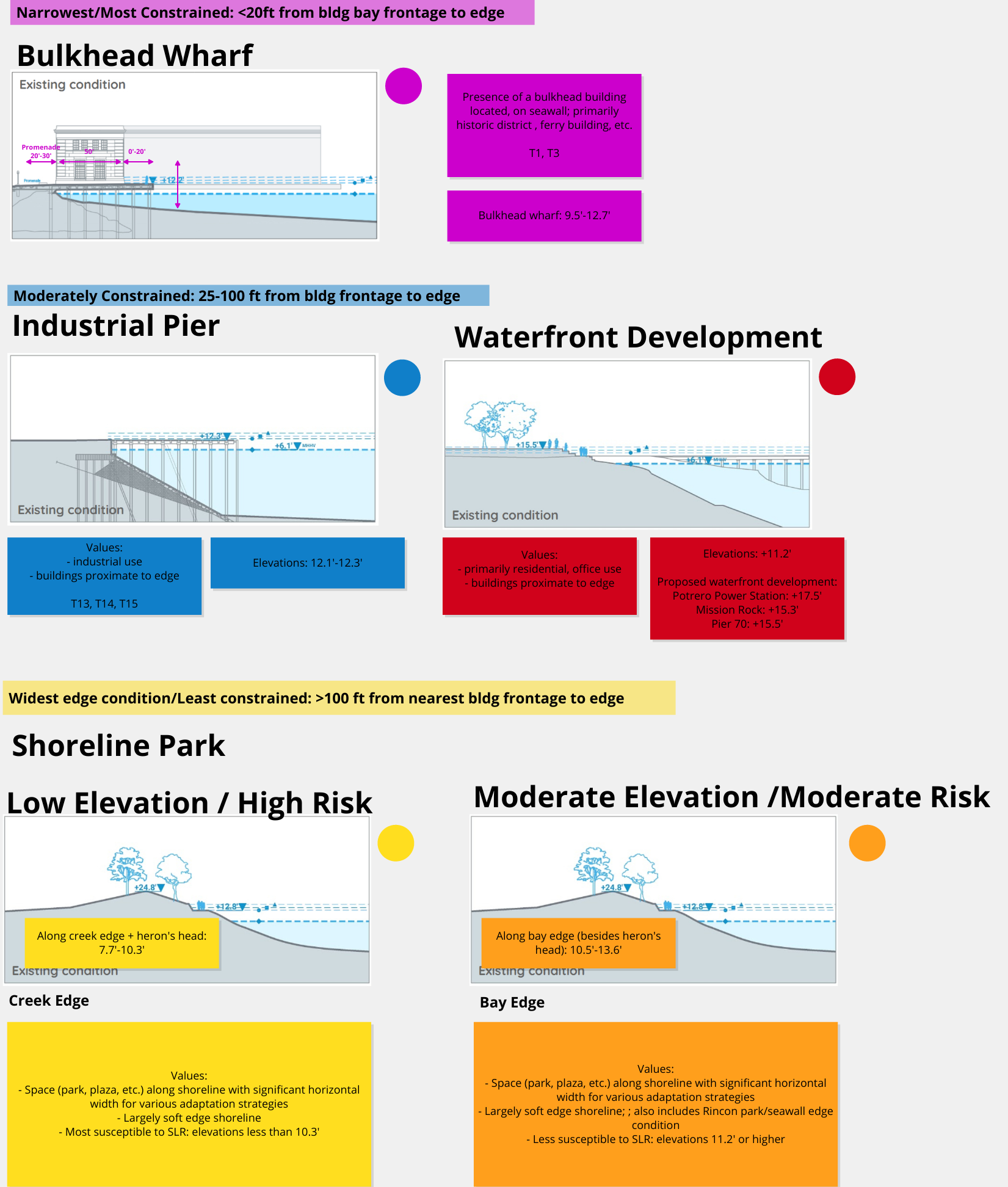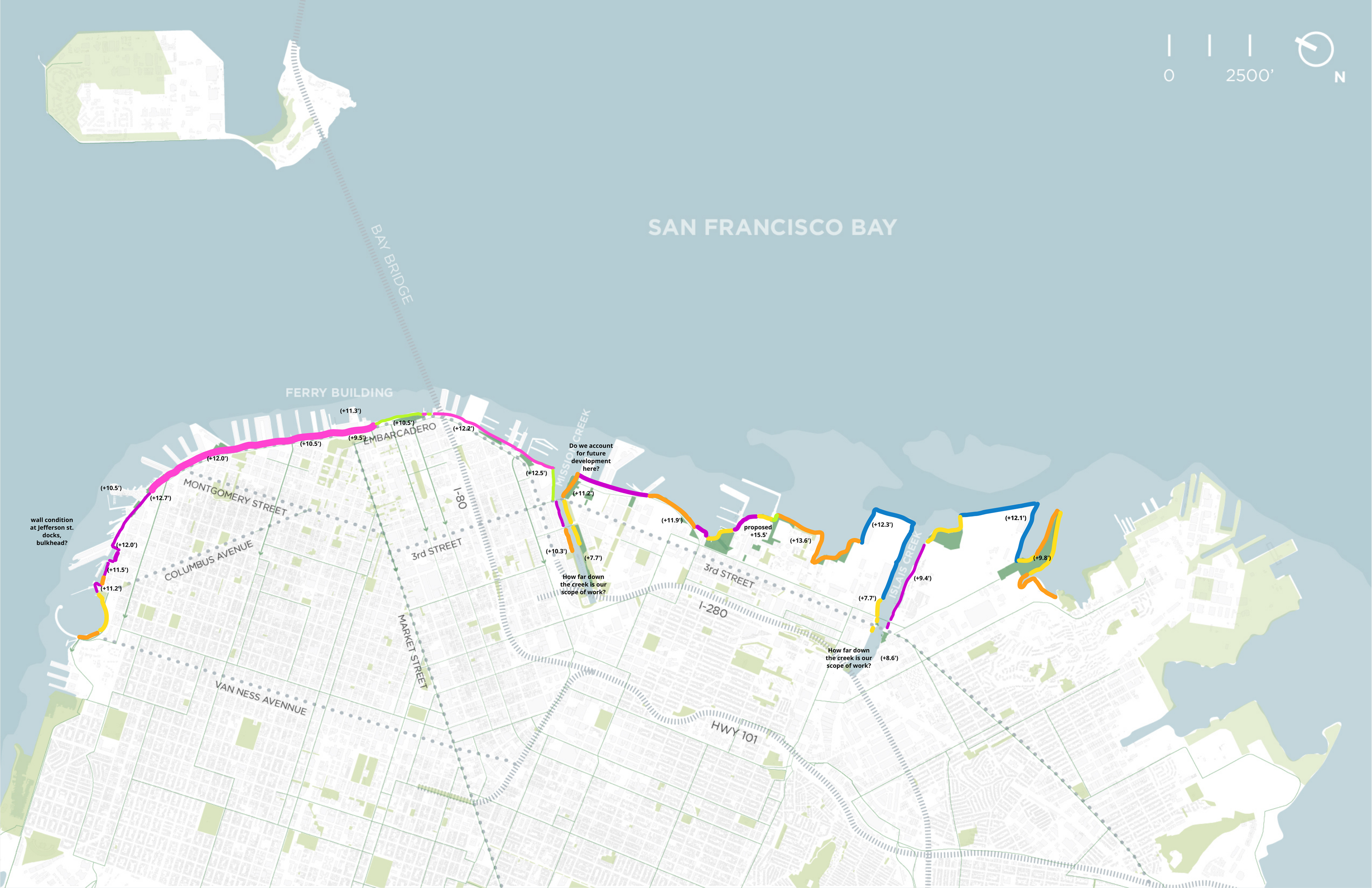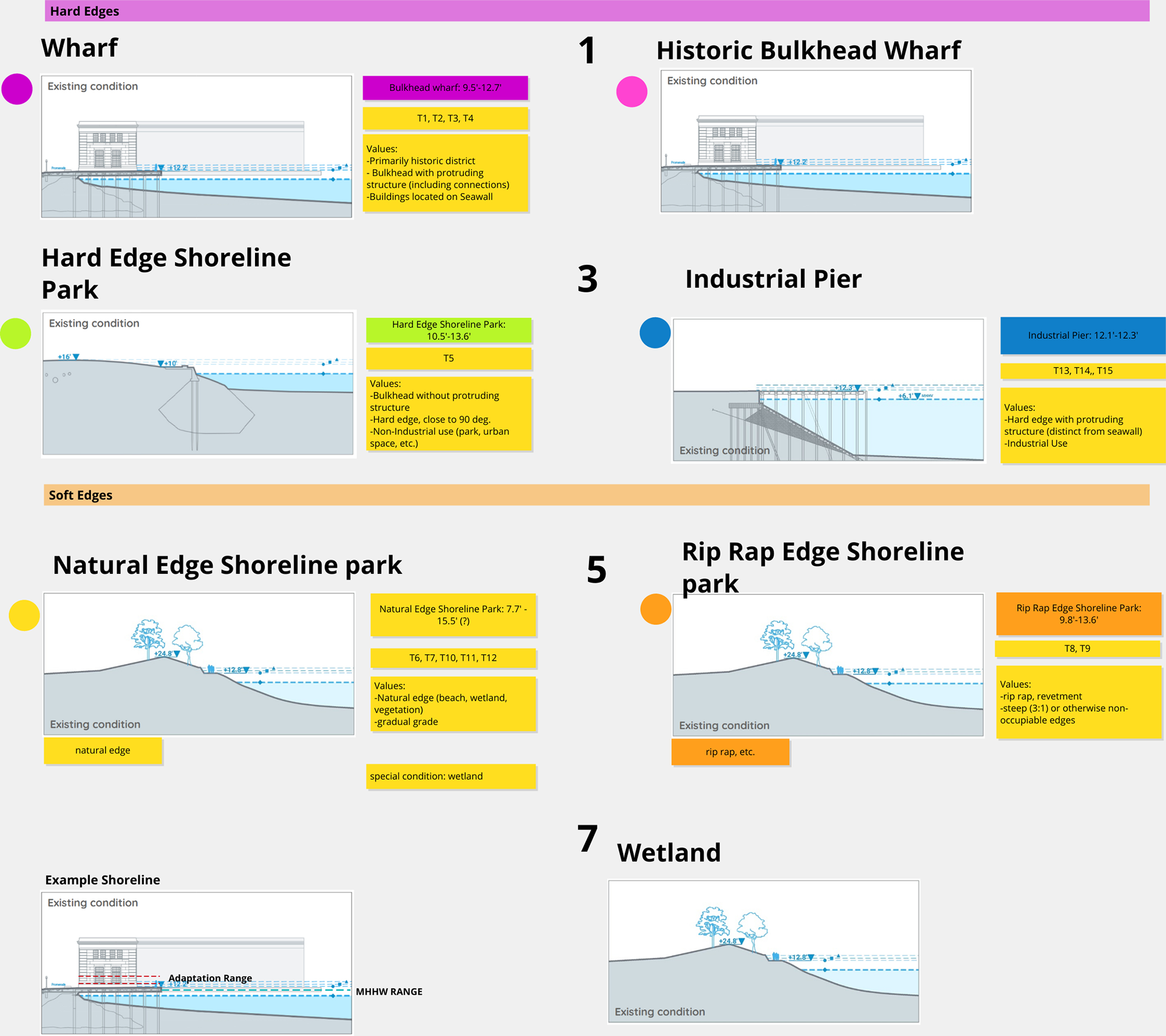 After reviewing the two options, our team chose to proceed with the strategy of grouping sections based on edge type. The reasoning behind this decision was that although context is incredibly important to consider in our design, it was ultimately out of our project scope. Our main focus and jurisdiction was limited to the waterfront and its immediate context: the land owned by the Port of San Francisco. The six distinct shoreline typologies that our team was going to design for were as follows: Historic Wharf, Wharf, Hard Edge Shoreline Park, Industrial Pier, Rip Rap Edge Shoreline Park, and Natural Edge Shoreline Park.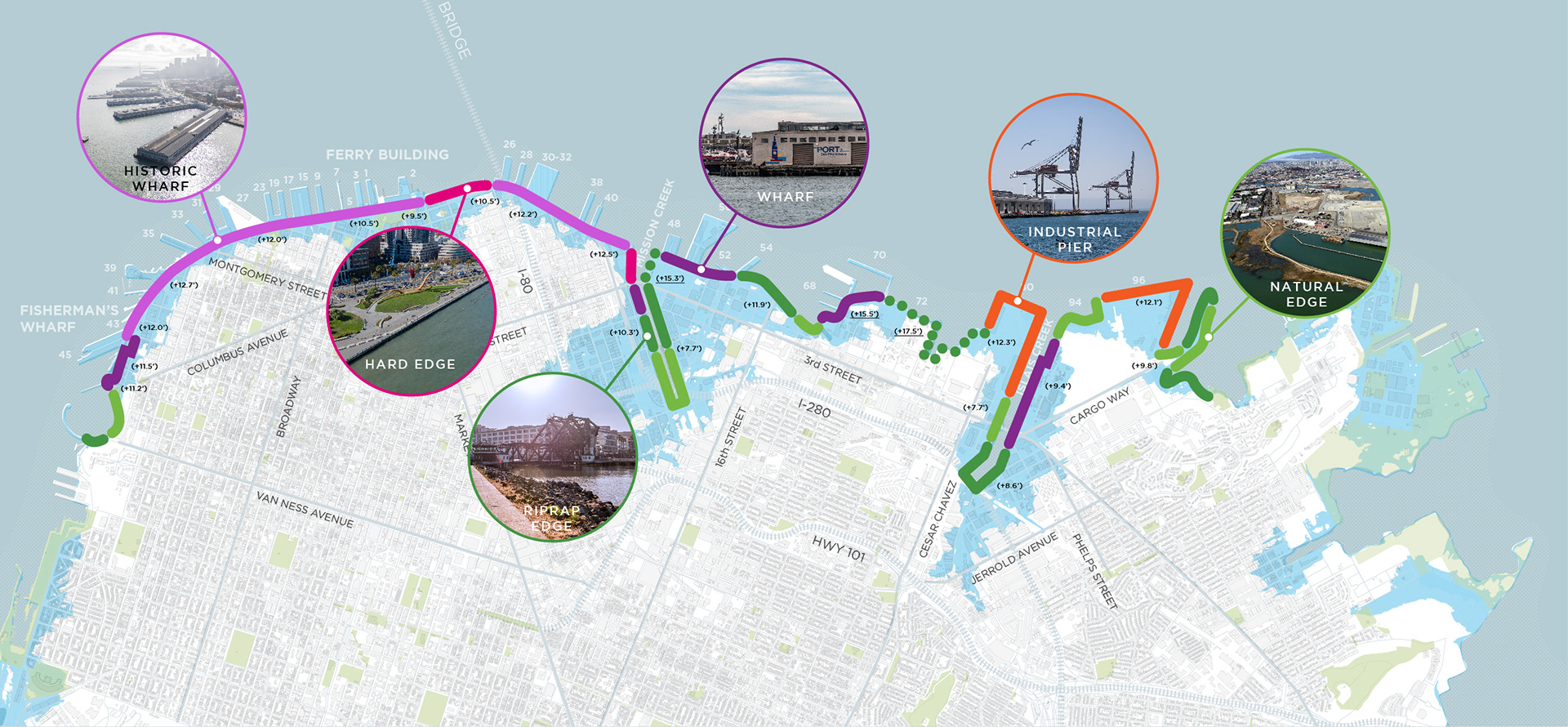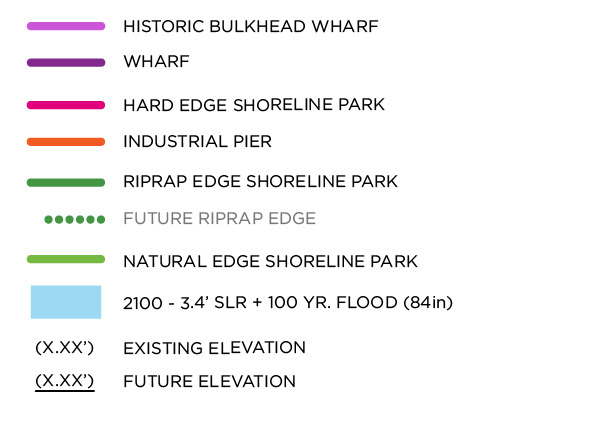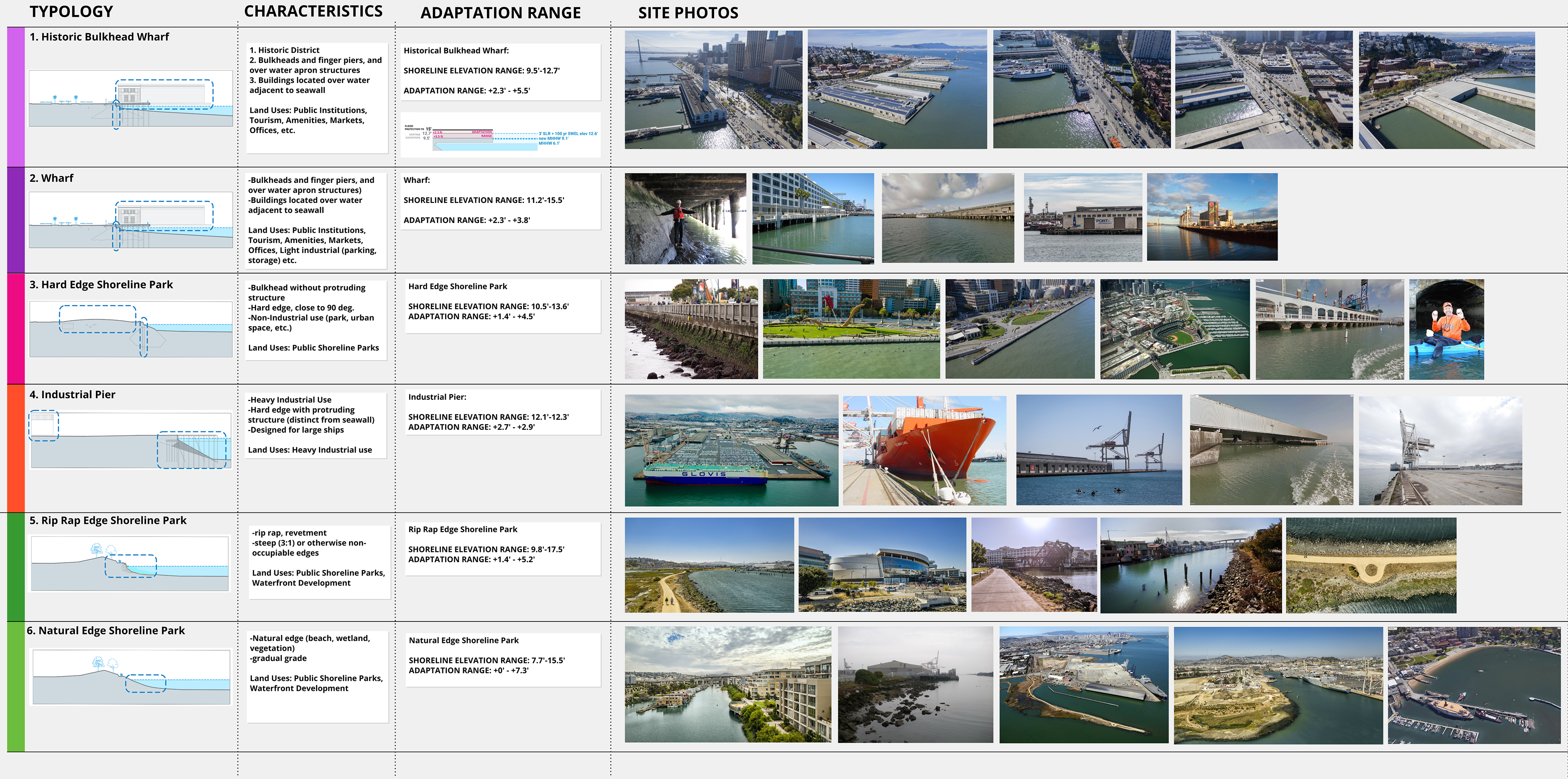 IDEATING SOLUTIONS
Once we had identified the shoreline typologies for which we were designing, it was time to start brainstorming solutions for how each shoreline type could adapt to sea level rise. Way before I joined the project, my team had gathered information about measures that could be taken to protect San Francisco from sea level rise. These were organized as a sort of menu from which designers could choose the adaptation measure most suited for their exact project area.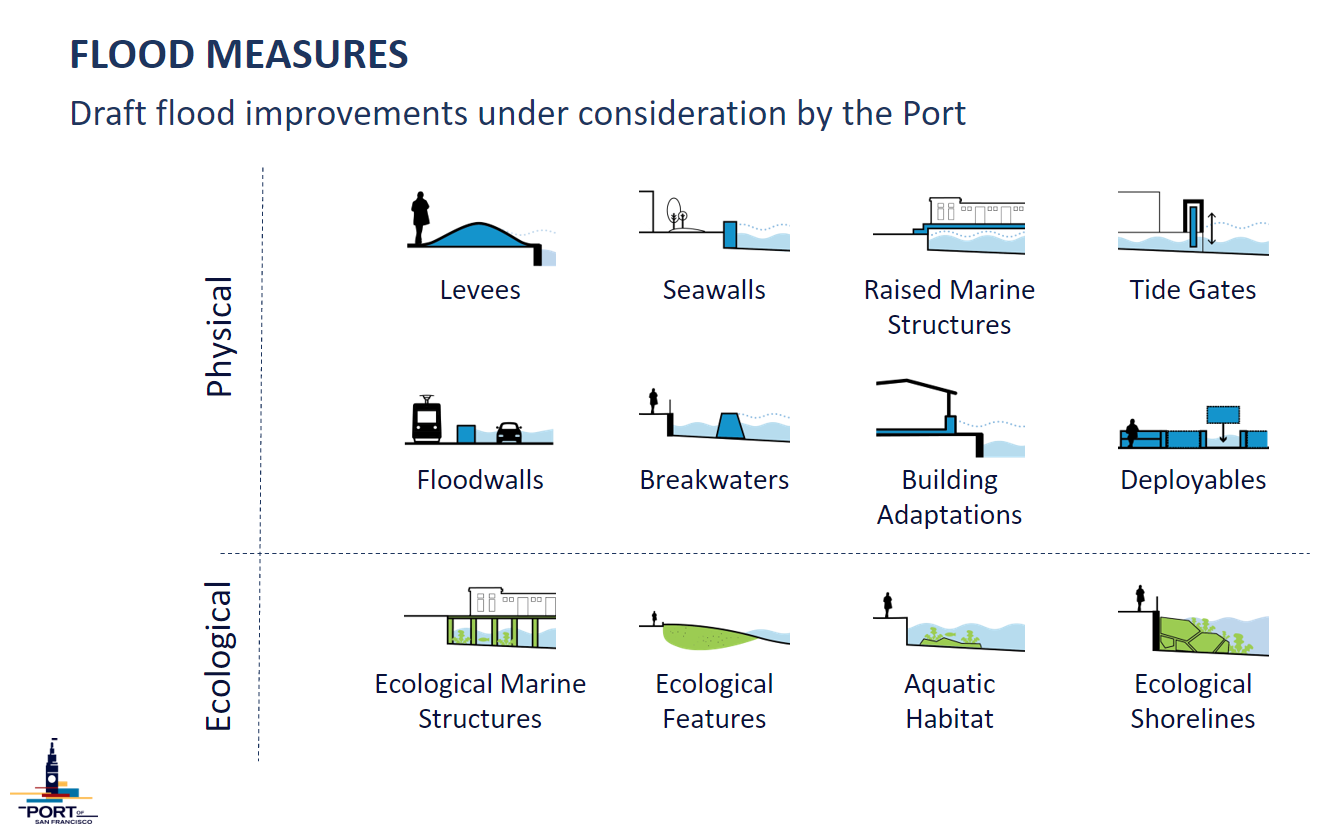 Using this comprehensive list of flood measures, our task was to show how these would play out at specific locations along the waterfront. In other words, our approach was to take this list of flood measures and assign them to the six shoreline typologies which we defined earlier in the project. We decided as a team to focus our attention specifically on the "Wharf" and "Historic Wharf" typologies since these comprise the most popular and most heavily trafficked part of the waterfront.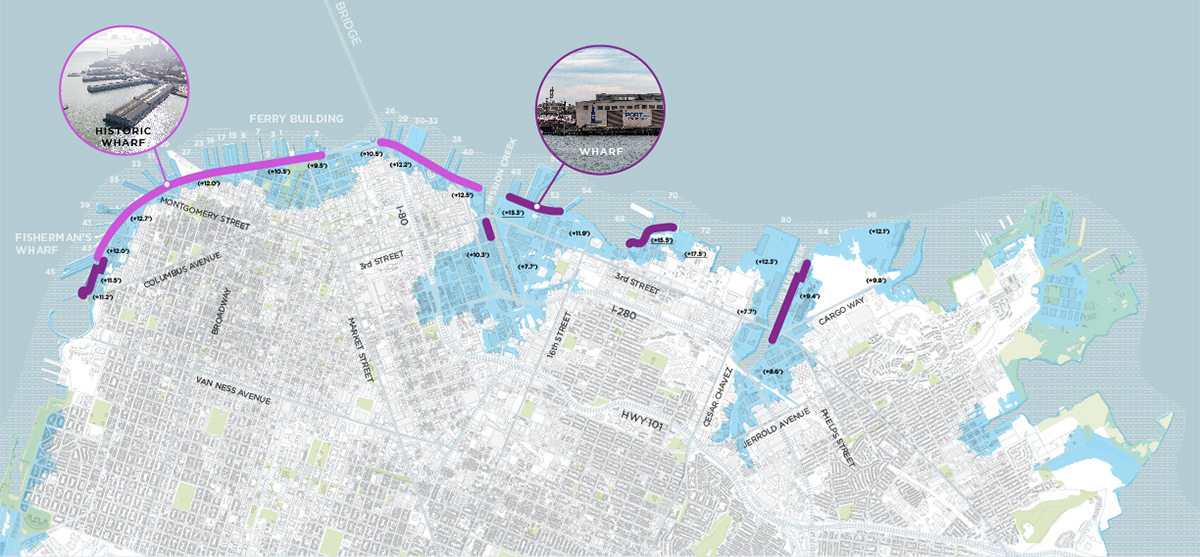 Early on in our process we identified that the main element distinguishing a historic wharf from an ordinary wharf is the presence of a historic building. With that in mind, we found that the measures one could take varied greatly depending on whether a building was present. In order to test out every possible adaptation scenario, I created an exhaustive series of illustrative sections demonstrating how each measure would play out at a real location along the waterfront.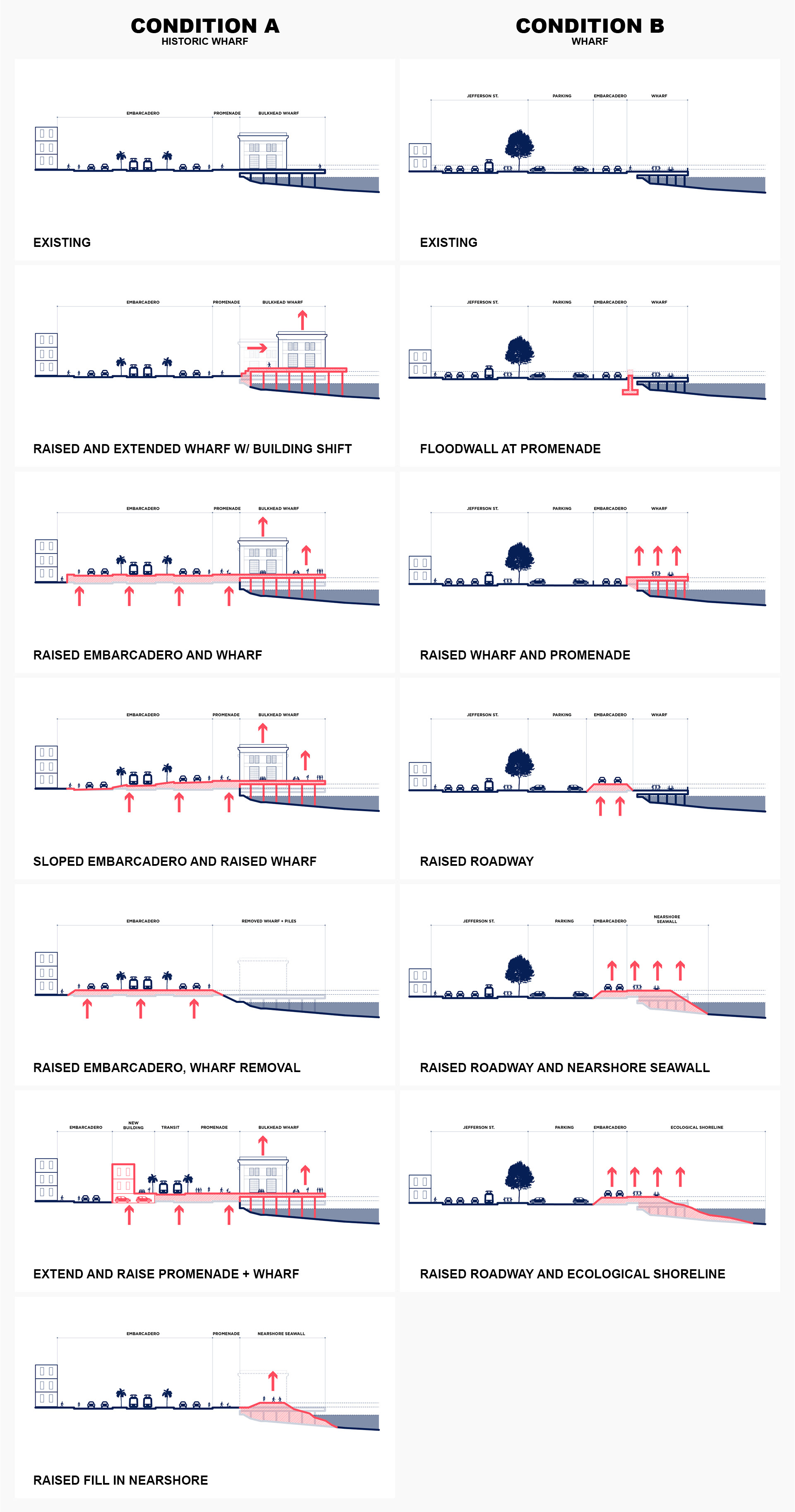 AQUATIC PARK PILOT PROJECT
Now that we had devised basic adaptation strategies for each shoreline type, it was time to apply what we learned to a conceptual pilot project. The intent behind this project was to serve as an experiment for how the design of a site-specific project could be conducted using guidelines established by CMG. 

The area we chose for the pilot was Aquatic Park, a popular destination at the westernmost boundary of the larger seawall project. The site is known for its significant historic and recreational value, being home to The Maritime Museum and a public beach used for a number of watersports.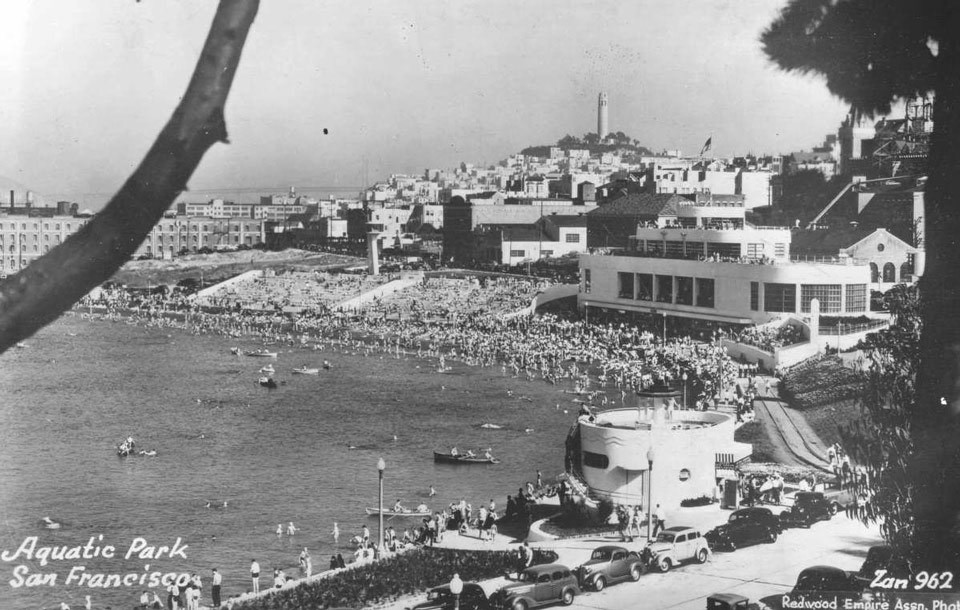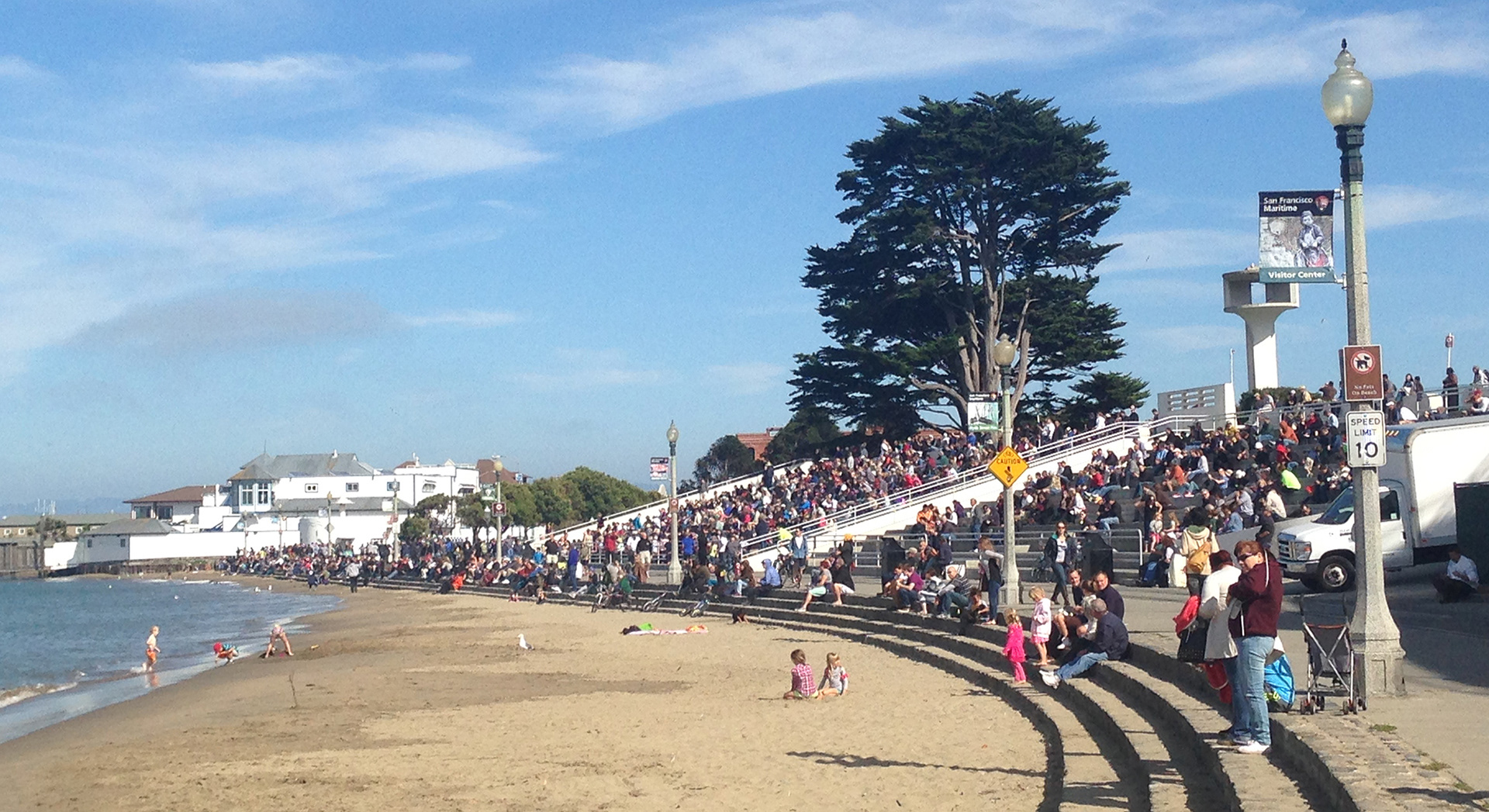 First we identified the risks and assets on site, using data provided by The City of San Francisco and community input. This exercise helped us prioritize our design efforts towards areas of the site that were most valued and most at risk for flooding. During this analysis we found that the Aquatic Park beach and multi-use pathway was at high risk of flooding in a relatively low sea level rise scenario. These two features were really important for us to consider since most people come to the park to use the beach or trail.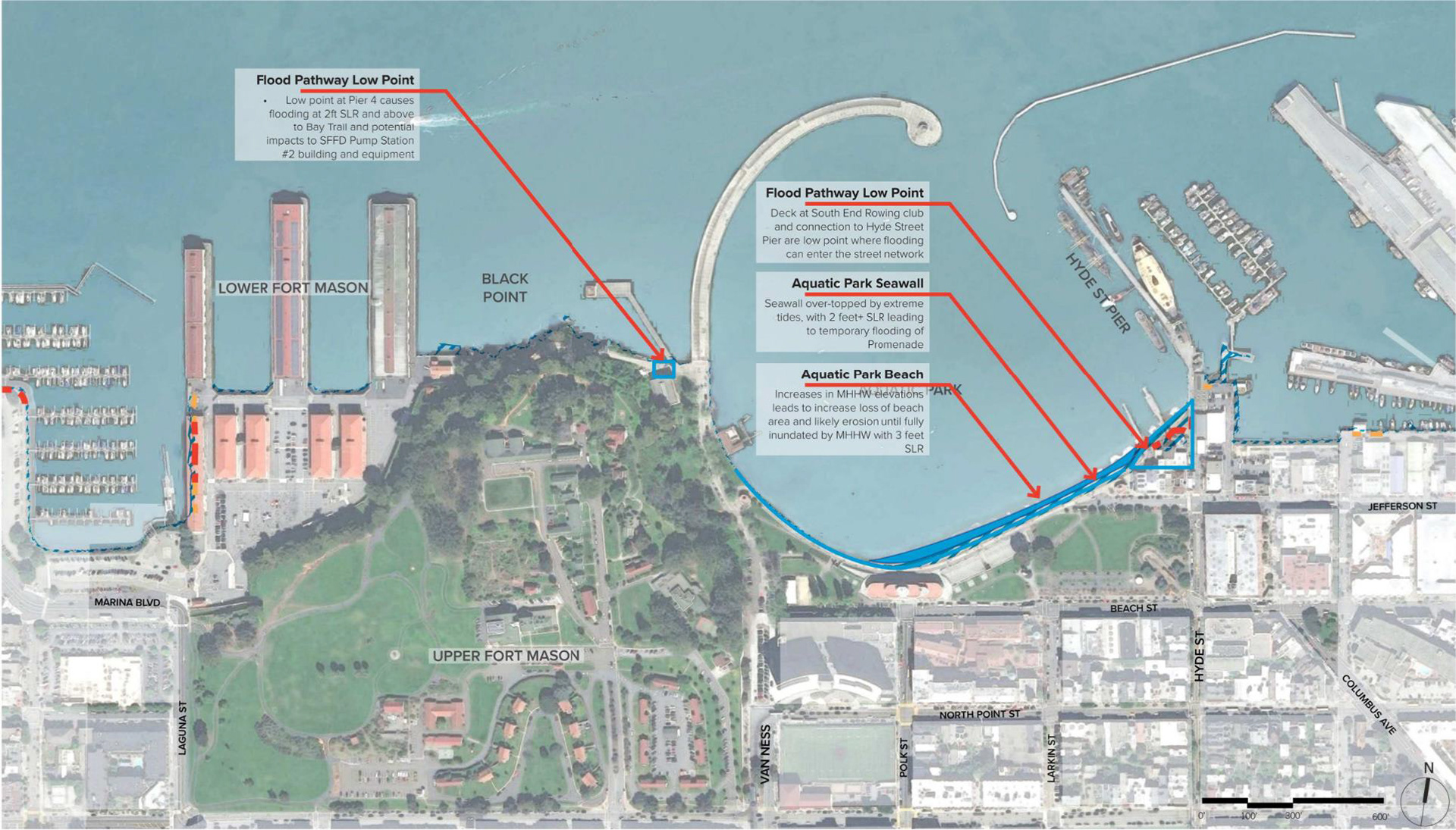 To better understand the interface between these key assets and rising sea levels, I drew a series of cross-sections along the project's waterfront. These diagrams helped our team visualize the "tipping-point" of each area, a condition where rising sea levels would cause lasting damage or permanent loss of some of our key assets. Identifying these "tipping-points" helped us understand what the risks are in the near, mid, and long term future of the site. This process revealed to our team where immediate action needs to be taken, and helped us prioritize where project funds and design efforts need to be concentrated.
Alongside our efforts to protect the park from rising sea levels, our team was also focused on holistically improving the experience of the park. Speaking with the community and carrying out our own analysis revealed some important challenges that the site faces today. For instance, Aquatic Park has difficulty attracting visitors due to its lack of accessibility. The park is also confusing to get around, and its elements do not have a clear identity. Knowing these challenges, we were able to suggest opportunities that our future design could address. Our focus moving forward apart from sea level rise adaptation was to strengthen and connect essential functions in order to foster a more clear identity for the park. We also saw opportunity on the site to clarify key gateways, simplify the circulation, and add new opportunities for visitors to interact with the bay.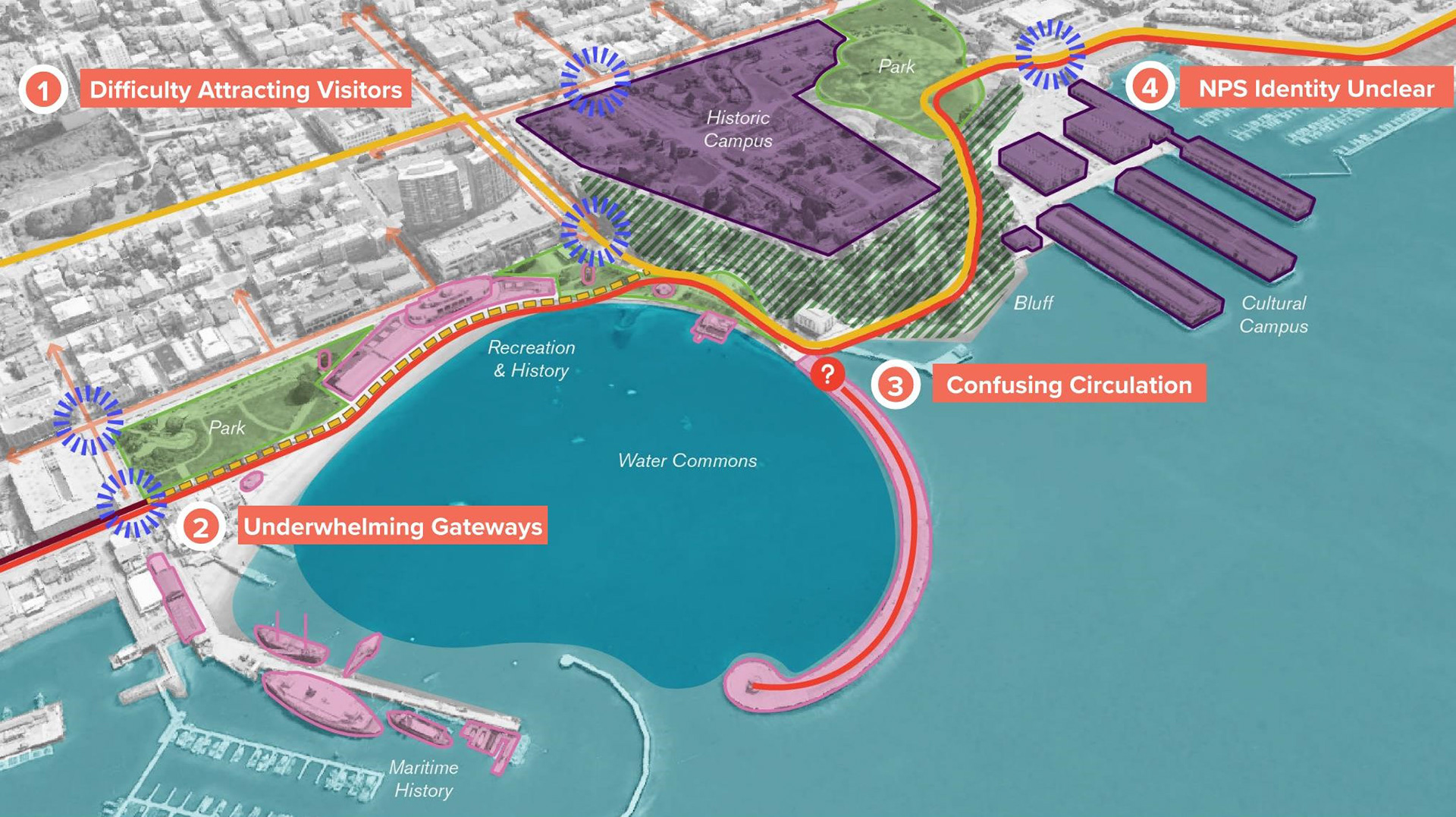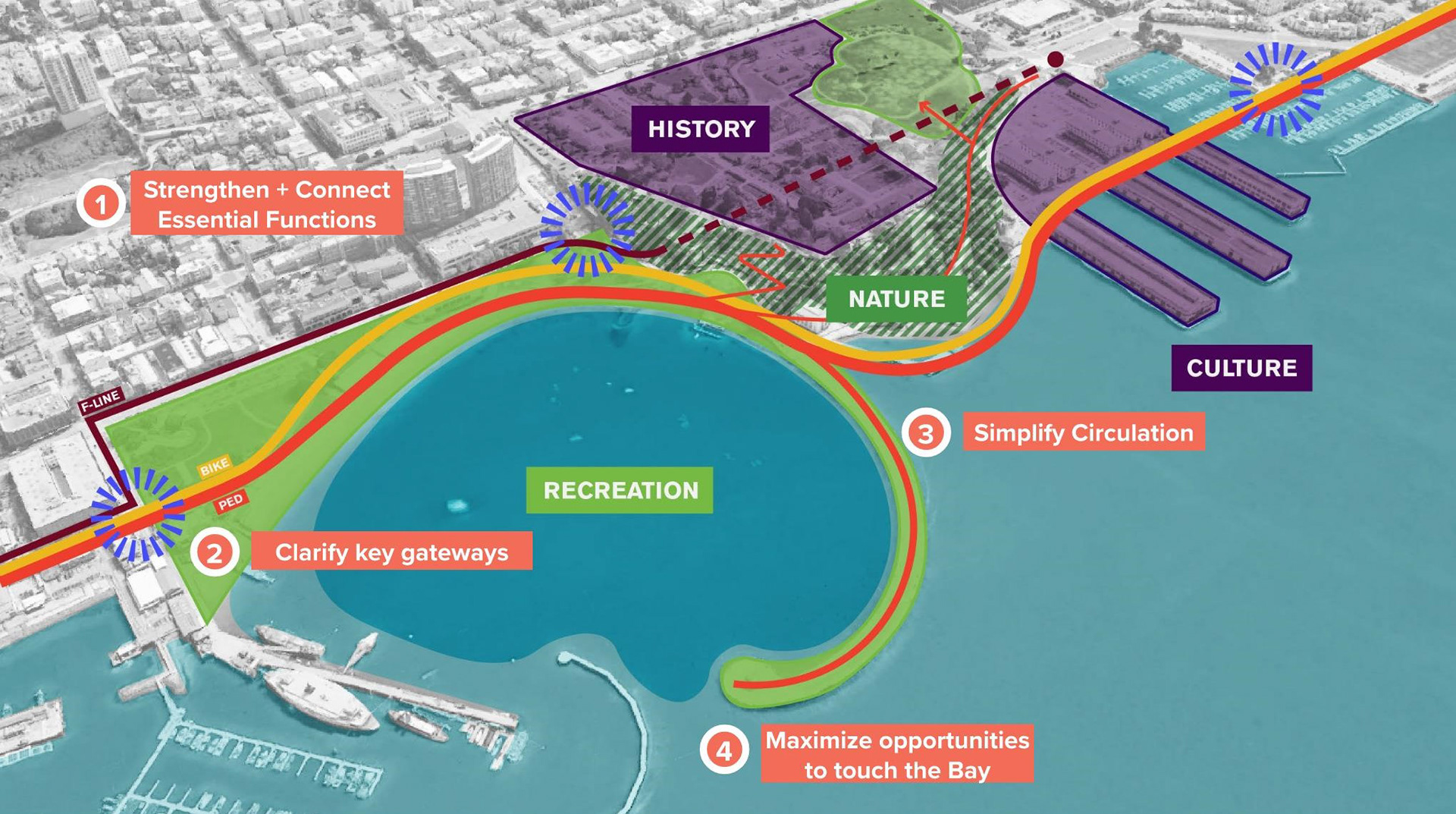 With our priorities and aspirations for the project fresh in our heads, our team sketched up some quick visions for what Aquatic Park could look like in the near and long term. In the near term, our interventions were relatively simple and inexpensive. We would extend and raise the seawall around the Swim Club and Pump Station in order to provide temporary protection from rising sea levels in the near future. This intervention would keep most of the park relatively untouched, while protecting the most at-risk assets.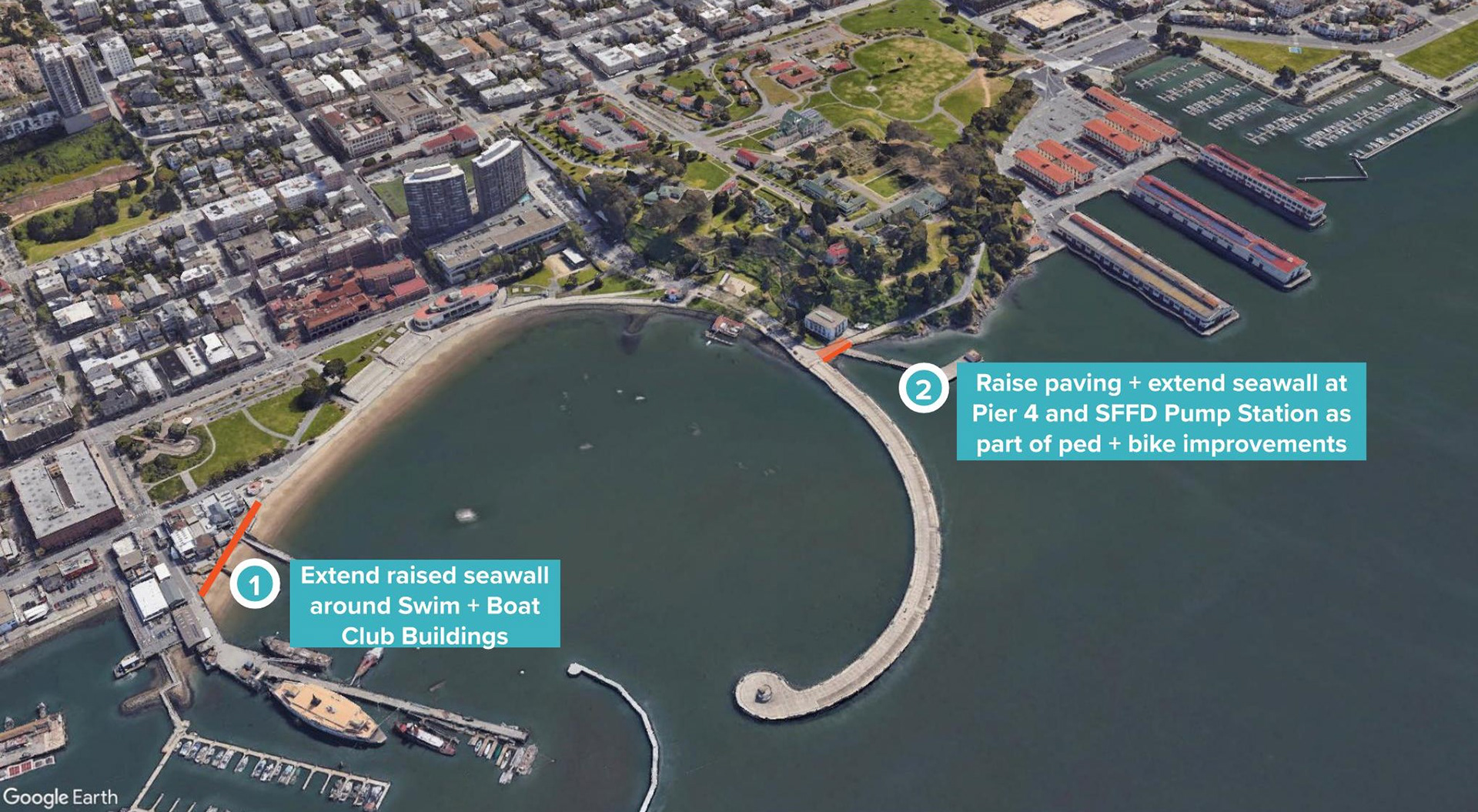 In the long-term our team's strategy was to incorporate many of the social and environmental opportunities found on the site with more permanent adaptation measures. Our vision was to raise large areas of the site, including the eastern entrance and main promenade. Raising these areas for adaptation would also give us opportunities to redesign the entrances and pathways for clearer wayfinding and circulation. As part of this effort, we would also rebuild the municipal pier which is currently closed due to deterioration. Our vision for this rebuilt pier is to provide intertidal habitat and to create opportunities for visitors to access and interact with the water. Another major design move we proposed is to raise and extend the beach to accommodate for rising sea levels. This creates more area for recreation while also serving as a buffer against flooding.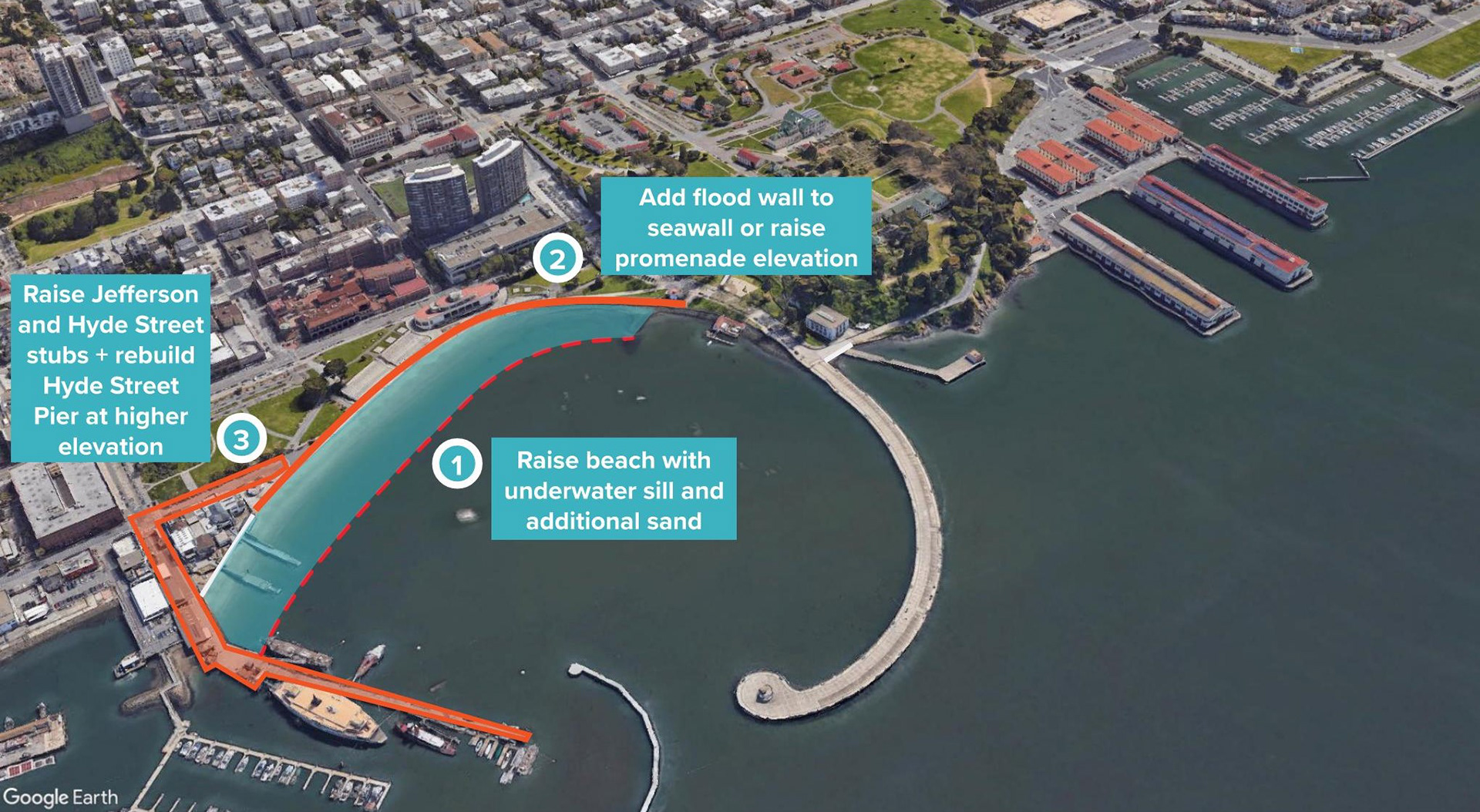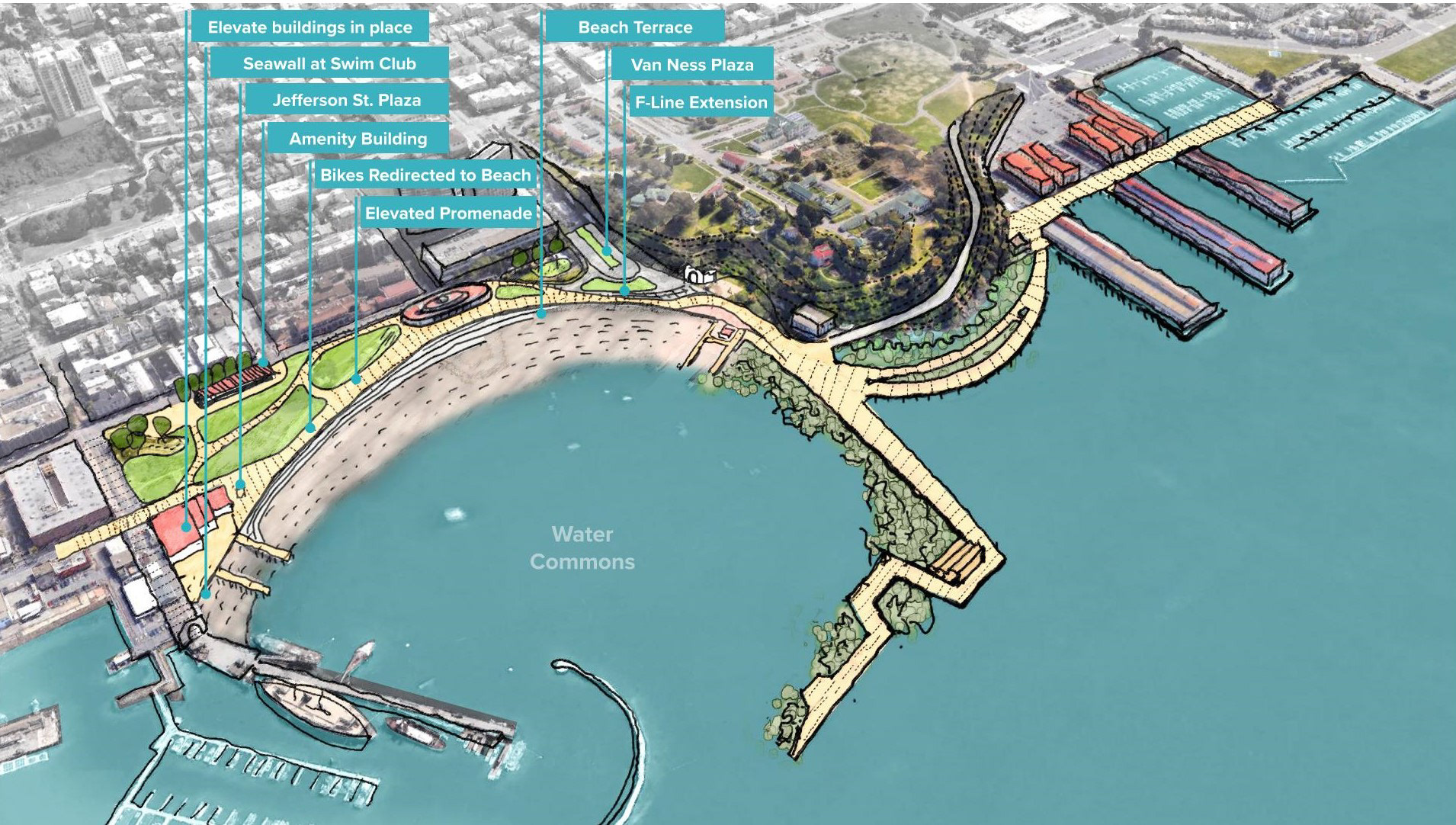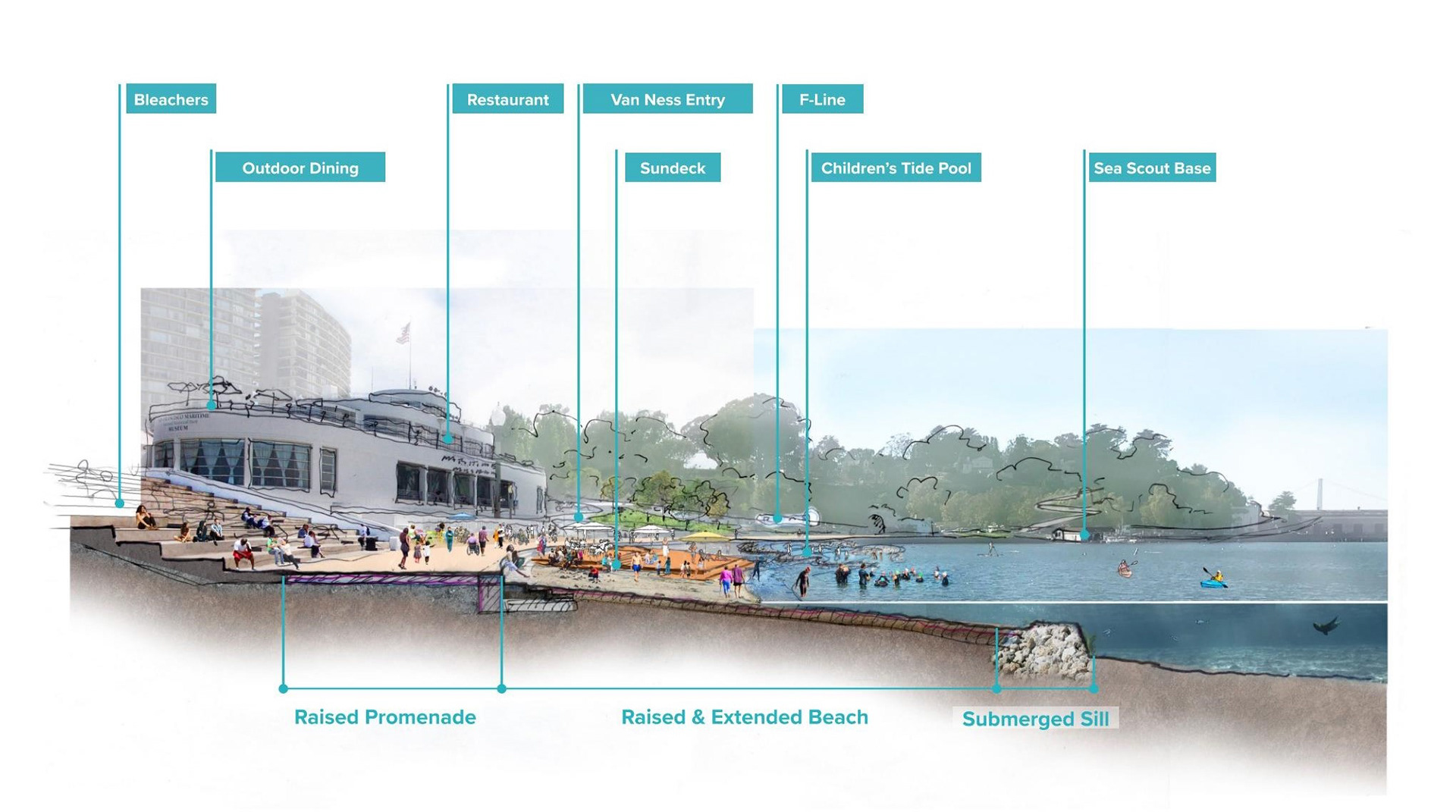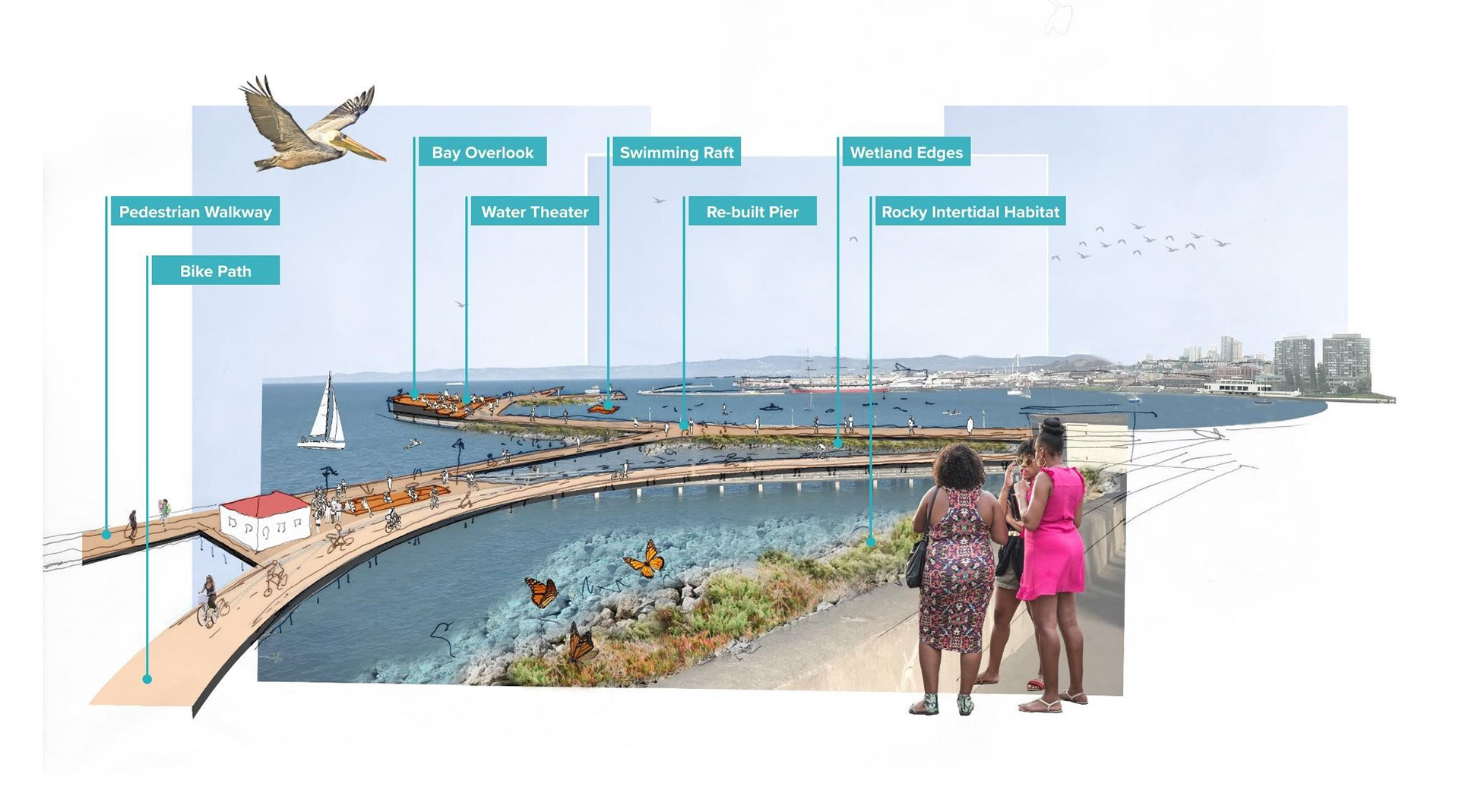 OUTCOMES

Although this project is still in progress, and will be for a number of years, our team was able to accomplish a number of important milestones in just a few short months. Firstly, the typology map and waterfront sections our team produced will serve as a powerful reference as we begin to develop design guidelines for the entire waterfront. We broke the waterfront down into six unique typologies and identified appropriate flood protection measures for each, which greatly simplifies the design process as we begin proposing interventions at a site-specific scale. 

Our pilot project at Aquatic Park allowed us to test our design guidelines on a site-specific project. The resulting design demonstrated to stakeholders how flood adaptation measures could be combined with landscape elements that improve ecological and social wellbeing. As this project goes through a number of city approvals and community meetings we will learn valuable lessons about designing and building sea level rise resilient projects in San Francisco. In a way, our design for Aquatic Park will serve as a prototype for future resiliency projects along the waterfront from which we can learn. 

Finally, we were able to build valuable relationships with the local community as part of our engagement efforts. Our engagement events offered valuable insight into the needs and priorities of the people we are ultimately designing for, informing and enriching our work as designers. 
The opportunity to combine social and ecological benefits with pragmatic engineering solutions is the reason I am so passionate about climate change resilient projects, and it was an absolute joy to be a part of this project. I sincerely hope that my involvement in this project contributes to a vibrant and resilient San Francisco in the near future.